Public Policy Researcher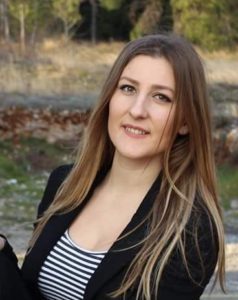 Dragana Jaćimović works as a Public Policy Researcher at Institute Alternative. She graduated at Faculty of Political science in Podgorica, specialist studies on International relation department. For the Government-funded Internship Programme she chose Institute Alternative, where she started working in January 2018. In her work so far she was involved in the projects in the area of rule of law, public administration and public finance.
She is currently engaged in a regional WeBER 2.0 project.
Dragana is a member of the Government's Working Group for Negotiation Chapter 24 – Justice, Freedom and Security since June 2021.
As the author of the section on Montenegro, she participated in the development of analyses: "Falling Short of Commitments: How Western Balkan Governments Fight Organised Crime" and "Mapping Civil Society Responses in Confronting Organised Crime in the Western Balkans".
She is one of the authors of the monitoring report "Implementation of the New Public Procurement Law: A Chance to Leave the Vicious Circle".
She was a research associate for publications: "Defence and Security Procurement: New "Rules of the Game", Old Issues", "2019 Public Administration Reform Monitoring Report", "Low Value Procurement in Montenegro: Without Transparency or Competition", "Instead of Reforms, Status Quo: Control of Assets Declarations and Conflict of Interest in Montenegro". She also participated in the research and preparation of  the publication "Confidential Procurement in Montenegro: Far from Public's Control".  She is one of the research assistants for the publications "Public Finance Management: The other side of the coin (updated monitoring report)", "Report on the PFM Reform in 2017 and 2018: The other side of the coin" and "Municipalities in Trial: Between Lack of Accountability and Protection of Local Interests".
She was the coordinator of two regional projects "Make Future Together: EU and the Western Balkans for the Youth Perspective" and "You4EU – Citizen Participation 2.0" through which she participated in writing analyses "European Youth – Addressing Digital Challenges" and "50 Questions from YOU to the EU".
She speaks English and Turkish.
Contact: dragana@institut-alternativa.org