Public Policy Researcher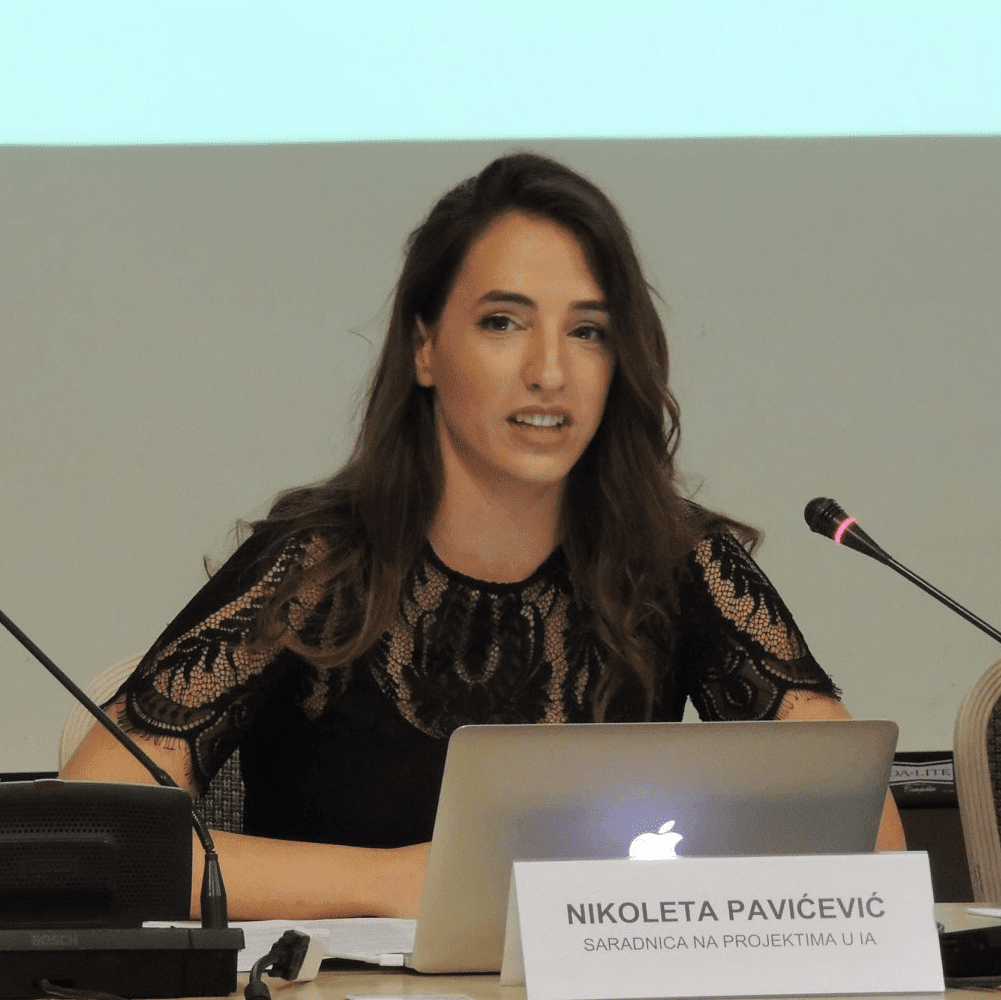 Nikoleta Pavićević is a Public Policy Researcher at the Institute Alternative, researching and monitoring in the areas of parliamentary oversight, freedom of public assembly and gender mainstreaming.
She started working in Institute Alternative in 2018 and currently works as the coordinator of the projects ''Early Integration for Gender Equality'', supported by the European Union and the Swedish International Development Cooperation Agency and ''Empowered: Public Policies for Gender Equality'', supported by the Ministry of Human and Minority Rights.
Nikoleta is a member of the Working Group of the Ministry of Interior of Montenegro for amendments to the Law on Public Assemblies and Public Events, and member of the OSCE/ ODIHR (Office for Democratic Institutions and Human Rights) network of monitors of freedom of public assembly.
She is the author of five monitoring reports on the work of the parliamentary committees – Committee on Political System, Judiciary and Administration, Committee on Economy, Finance and Budget, Human Rights and Freedoms Committee, Anti-Corruption Committee and Security and Defence Committee, in which, after several months of monitoring, recommendations for improvement of the control and legislative role of these working bodies were provided.
Recommendations for improving the integration of the gender perspective in the process of development of public policies in Montenegro, Nikoleta presented in the analysis ''Gender Mainstreaming: Examples from Montenegro''. Findings from this analysis were recognized in the National Gender Equality Strategy 2021-2025 of the Ministry of Justice, Human and Minority Rights. Within the project ''Voice Your Rights! – Expanding Space for Free Assemblies'', supported by the EU, she published a Monitoring Report on Freedom of Public Assemblies in Montenegro, which tackles gaps in legal framework in this area, as well as problems registered in practice. Additionally, Nikoleta participated as a research associate in creation of numerous IA publications.
Nikoleta was born on October 31, 1994 in Bar, Montenegro, where she finished elementary and high school. At the University of Donja Gorica she worked as a teaching assistant with prof. dr Olivera Injac, on the subjects Global Security and International Terrorism. Under the mentorship of prof. Injac, she graduated with the thesis ''The Phenomenon of Corruption and the Role of Security Culture in Combating Corruption'' at Humanistic Studies.
Contact: nikoleta@institut-alternativa.org