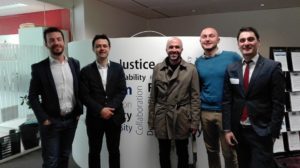 With the colleagues from the Belgrade Centre for Security Policy from Serbia and the European Policy Institute from Macedonia, we visited the EU institutions and talked to representatives of Brussels-based organizations and foundations dealing with the EU accession of the Western Balkans countries from 16 to 19 May 2016.
The visit was organized by the Open Society European Policy Institute and the European Fund for the Balkans. The event builds upon the project being implemented by the three organizations entitled "Monitoring and Evaluating the Rule of Law in the Western Balkans (MERLIN WB)".
The meetings took place at the Directorate-General for Justice and Consumers (DG JUST) and the Directorate-General for Neighbourhood and Enlargement Negotiations (DG NEAR).
Besides with the representatives of the European Commission, we got together with the members of the Committee on EU enlargement of the Council of European Union (COELA), as well as with the European External Action Service (EEAS) representatives.
During the visit, the roundtable discussion "Rule of Law in the Western Balkans: Improving the conditionality mechanism of the chapters 23 and 24 of the EU enlargement negotiations" was held at the premises of the Open Society European Policy Institute. The event gathered experts from research centers, organizations and foundations which deal with issues related to the enlargement policy and the Western Balkans, as well as the guests from the European Parliament.
The topic of the meetings was the current situation in Montenegro, Serbia and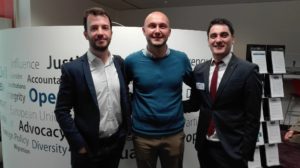 Macedonia within the areas covered by the chapters 23 and 24. During the meetings with the EU representatives and the organizations which monitor Montenegrin accession process, we pointed out our observations on the problems related to the integrity of police, the work of the Special Prosecution for Organized Crime and Corruption, our objections on the commencement of the work of Agency for Prevention of Corruption, poor cooperation between the State Audit Institution and the prosecution, the latest trends in the public procurement system, poor control over the security and defense sector, as well as the current developments on the political scene, the transitional government and the control mechanisms which need to be established in order to prevent the misuse of public funds by the political parties.
The aim of the project MERLIN WB is the establishment of the regional coordination mechanism for democracy and the rule of law through the implementation of obligations under the chapters 23 and 24. The leading institution implementing the project is the European Policy Institute from Skopje, while the partners are Belgrade Centre for Security Policy, Institute Alternative and GONG from Croatia.