Public policy researcher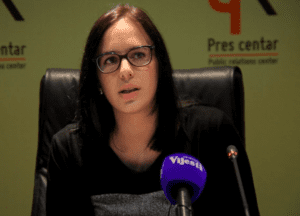 Aleksandra works as a Public Policy researcher at Institute Alternative since 2014. She is the co-author of the study «Freedom of Assembly in Montenegro», produced within the regional monitoring of the freedom of assembly, as well as the study «Monitoring and Evaluation of the Rule of Law in Montenegro», in chapters dealing with Police reform, Fight against organised crime and terrorism. Aleksandra monitors the work of the police, with the focus on oversight of its work, which she was writing about in our study «Assessment of police integrity in Montenegro». Within our research pillar Public Administration, she monitors and researches the public administration reform. She was the research associate during the preparation of the study «Public Finances and Accountability of Administration: What does the Protector protect?». Within the Parliamentary programme, she monitors its work, especially the work of the Security and Defense Committee. She was research associate within the project «Analytical monitoring of the oversight function of the Parliament» and in preparation of the studies: «The Parliament's oversight of the executive in 2014» and «Parliamentary Questions in Montenegro».
Aleksandra graduated from the Faculty of Political Sciences at the University of Montenegro, at the Department of International relations. During her studies, she was the Vice-president of Montenegrin Association of Political Science Students, member of Center for Social Research and member of Executive Committee of International Association for Political Science Students. She finished the internship in United Nations in Montenegro and she was awarded the Konrad Adenauer Foundation scholarship for the year 2014/2015.
Contact: aleksandra@institut-alternativa.org