There is an agreement that police reform in Montenegro is necessary but without consensus on how to implement it
It is important to continue the dialogue in order to decide whether the Police Directorate will remain a part of the Ministry of Interior or become separate service of the state and operationally independent, it was concluded at the Institute Alternative panel discussion organized on 14 of June 2018 in Podgorica.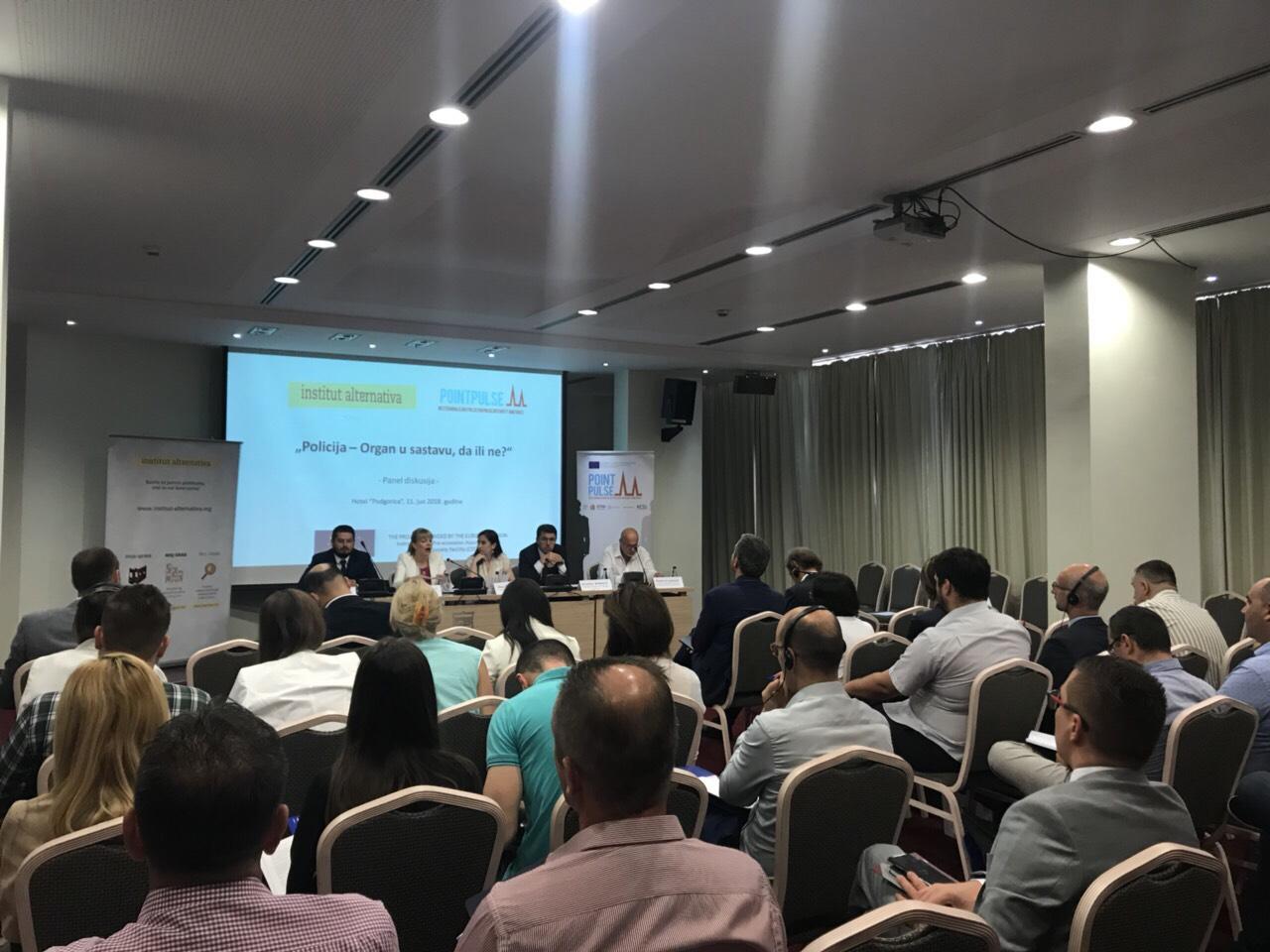 The new law regulating the internal affairs in Montenegro will determine if the Police Directorate will continue to be a part of the Ministry of Interior or turn into a separate service of the state.
Representatives of the Ministry of Interior, Police Directorate, Public Administration Ministry, and the State Audit Institution have different approaches towards police reform in Montenegro.
Police representative Radovan Ljumović opted for the existing concept where the police are a part of the Ministry of Interior and emphasized necessity to rationalize human resources in the police.
"In contrast to most of the European countries, nearly 400 police officers in Montenegro are securing different objects. This number will be reduced, as well as the number of employees in organizational units. Therefore, we will have more police officers in operational tasks on the streets", Ljumović pointed out.
Danilo Ćupić from the Ministry of Interior added that he hopes that courts and prosecutors' offices will take over the job of securing courthouses by the end of the year.
State representatives outside the police do not agree with the concept "Police Directorate within the Ministry of Interior".
State Auditor Branislav Radulović said that it is unnatural that someone who has so many employees and spends 72.36% of the Ministry of Interior's budget is a part of something that has significantly fewer employees and spends a lot less.
Police reform is needed alongside public administration reform since there is a larger number of administrative bodies, more employees, unclear and illogical lines of responsibility, no savings have been made, and the previous reforms accomplished nothing, assessed Danijela Nedeljković Vukčević from the Public Administration Ministry.
"With the new law on public administration an overseeing role of the ministry, more independent state bodies and more efficient management are planned," Nedeljković Vukčević concluded.
Dina Bajramspahić from the Institute Alternative said that although the model of the Police Directorate as an independent body outside the Ministry of Interior has certain advantages, it will only have an effect when the police have a fully professional management that will be a strong obstacle to the influence of politics on its work.