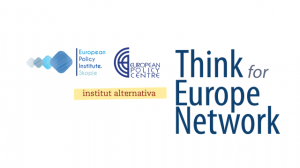 TEN network, consisting of Institute Alternative (IA), European Policy Centre (CEP) and European Policy Institute (EPI), held a two-day regional conference "Improving Performance of Public Administration: Current Experiences and Future Perspectives ".
Focus of the conference was the role and significance of performance audit and policy evaluation for the improvement of policy making and achieving better public administration in the context of the EU accession process.
Stevo Muk, president of Managing Board in IA and Malinka Ristevska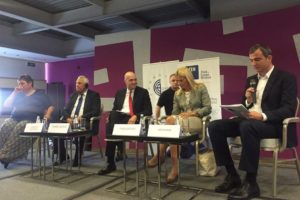 Jordanova, director of EPI and agreed that is very important to have regional cooperation in the negotiating process, in form of exchanging national experiences, as well as cooperation with civil society.
Later that day TEN researchers Jovana Marovic (IA), Milena Lazarevic (CEP) and Simonida discussed with Jasna Atanasijevic, Director of Public Policy Secretariat in Serbia and Gerhard Hammerschmid, Hertie School of Governance from Berlin. Kacarski (EPI) presented their joint study "Performance Audit and Policy Evaluation in the Western Balkans: On the Same or Parallel Tracks?" On findings and recommendations they di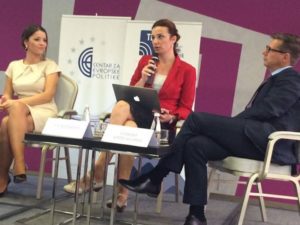 The remaining two panels of first conference day also had productive discussion, "Feeding performance audit results into policy development: What are the odds?" moderated by Simonida Kacarska (EPI) and "EU as the Driving Factor in the Improvement of Government Accountability and Performance in the Western Balkans" moderated by Zorana Gajic (ReSPA).
The second day was reserved for national experiences exchange in field of
public administration reform. Working groups of experts and researchers from the region and Europe discussed does policy evaluation matter, what is performance and delivery of public administration and haw to improve policy-making. The working groups were moderated by Marko Sosic (IA), Milos Djindjic (CEP) and Kristina Cuculoska (EPI).
Check out the short video about the conference highlights below:
The Conference is being organised within the project Performance Audit and Policy Evaluation: On the Same or Parallel Tracks supported by the Regional Research Promotion Programme in the Western Balkans (RRPP), financed by the Swiss Agency for Development and Cooperation (SDC).