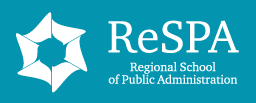 Milena Milošević, our public policy researcher, took part at the seventh annual conference of the Regional School for Public Administration, ReSPA.
How to improve more efficient making, implementation and evaluation of public policies was the main topic of this year's conference, which was held on April 18 and 19.
Around twenty experts from the region and abroad spoke at the conference.
Institute Alternative, IA, was among the few civil society representatives at the conference and the only Montenegrin non-governmental organization whose representative took part in the event.
"The topic of this year's conference was chosen since policy making is one of the fundamental phases of the policy cycle and becauseof the great need for policy making to improve in all its cycles", organizers stated.
Speakers and participants also focused on potential ways of increasing the inclusion of civil society organizations into the making, implementation and evaluation of public policies – an aim to which the IA has been devoted since its establishment in 2007.
ReSPA is an international organization, based in Danilovgrad, which has been entrusted with the mission of boosting regional cooperation in the field of public administration in the Western Balkans.
Initiative for its establishment was launched in Thessaloniki in 2003, at the joint summit of the EU and Western Balkan countries.