Clip published in January this year clearly shows  Knežević, as one of the wealthiest Montenegrins and until recently very close to Milo Đukanović, handing over a (cash stuffed) envelope to a high DPS official Slavoljub Stijepović just before 2016 election. Duško Knežević, who fell out with the clique released a video which explains what lays behind perpetual DPS victories.
However, the video recording did not prompt the Prosecution Office to initiate a complete scrutiny so to determine how elections are really financed. Moreover many charges were already pressed over illegal DPS financing and electoral fraud before this case.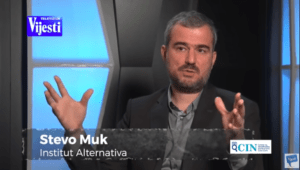 Stevo Muk, President of the Managing Board of Institute Alternative stated for Center for Investigative Journalism of Montenegro that he considers that it was the duty and responsibility of the Special Prosecutor to inform the public about his work. Thereby, the Prosecution Office could have shown some more sensitivity to the public  and made the public to have some confidence in its actions. Also, this case and the mode of offence itself is not that complex so to make excuses and run the investigation on and on for months and years on the part of the prosecutor, believes Muk.
"In his first exposition at the press conference when he spoke  to journalists about the Envelope Affair, Mr Đukanović explicitly admitted there that DPS had been receiving money from Duško Knežević and from the others as well, whether they were tycoons, businessman or companies and other legal entities. Moreover that DPS accounting department kept logs on those payments", considers Muk.
It's a public secret that significant amounts, which are likely the  proceeds from organised crime and also with certainty from various tycoons, have flown to DPS and its campaigns for years and even decades, Muk stated. Muk believes that those funds are mainly use in what is less visible in the whole story but still extremely important when it comes to election results – and that is vote buying.
Below, see how the "Envelope" Affair, as well as the past election related  events besides Stevo Muk, also  comment Dejan Milovac (MANS), Duško Knežević (Atlas grupa), Dritan Abazović (URA), Miodrag Lekić (former presidential candidate), Nebojša Medojević (DF) i Mladen Bojanić (former presidential candidate).
The documentary was made by Center for Investigative Journalism of Montenegro.