Download the publication (only in English)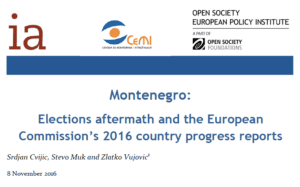 Politically, Montenegro finds itself in a paradoxical situation. At one level it is the champion of European integration in the Western Balkans when it comes to progress in the EU accession negotiations, but it is also the only country in the region that has not experienced a change of government since the introduction of the multi-party system in 1990. The same individuals, families and political and business elites have been controlling the country's politics and economy for more than 25 years. This situation is likely to continue after the recently held 16 October parliamentary elections where the ruling Democratic Party of Socialists (DPS) managed once again to secure most seats in the parliament although falling short of securing an absolute majority.
Read more about the elections aftermath and the recommendations to the European Commission, European Parliament and the EU Member States.