The international conference "Technology for Transparency and Citizen Participation" was held on Friday, September 27th in Zagreb.  The conference was organised within the project "YOU4EU – Citizen Participation 2.0", that Institute Alternative implements with the partners.
In the introductory part,  the You4EU project and and the publication "50 Questions from YOU to the EU" were presented. This publication is consisted of citizen's questions and answers from institutions on actual topics that are important to citizens, as well as regarding European Union.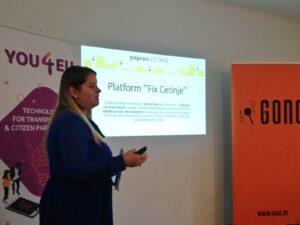 Afterwards, the award ceremony for the winners of the best digital solutions, which encourage citizen engagement and enable better communication of citizens and decision-makers, was held. CIECODE from Spain won 2,000 Euros for the completion of their solution "Personal Political Analyst". Also, solution of the NGO Active Zone from Montenegro, called "Fix my city" was presented together with Pin'em and Izbori_se (Croatia), Parlamento 2030 (Spain), Easy local budget (Serbia), as  five top ideas for competition.
Within the panel discussion "Technology for Transparency and Citizen Participation",  many digital experts discussed open data, the right to access information of public importance, and the use of technology in increasing civic participation.
Panelists for discussion were Helen Darbishire ( Access Info Europe), Bojan Perkov (SHARE Foundation), Mia Biberović (Netocracy), Nikola Ljubešić (Institute Jozef Stefan) and Belen Aguero (CIECODE) who highlighted the main challenges they face in their work.
The panel discussion was followed by an expert forum where participants discussed policy recommendations aimed at increasing transparency, better communication with decision-makers and greater citizen participation in public space through use of digital technologies. The participants agreed on the key role of civil society organisations in improving communication between citizens and government, as well as better understanding of the impact of modern technologies on democratic processes.
Participants on this conference from Montenegro were Milka Tadić Mijović (Center for Investigative Journalism), Miloš Marković (Center for Development of NGOs), Milena Stanojević (NGO Active zone), and Ana Đurnić and Dragana Jaćimović as representatives of the Institute Alternative.
The next debate within the YOU4EU project takes place in Ljubljana on October 22nd, 2019 and will be dedicated to citizen participation in environmental issues. After that, debates will be held in Podgorica and Belgrade.
The conference was organised within the project "YOU4EU – Citizen Participation 2.0", which is implemented by Institute Alternative in cooperation with partners from Serbia (Belgrade Open School), Croatia (Gong), Slovenia (PiNA) and Spain (Access Info Europe) with the support of European Union within the Europe for Citizens Program.