At the workshop organised for the representatives of NGOs and media, we presented an updated and upgraded portal ''My Money'', a visualisation of state-level budget data, which provides citizens a simple insight in the way that administration collects and spends their money.
The portal was launched in 2017, as the first civil society visualisation of the state budget in Montenegro. Despite the calls of civil society, budget data in Montenegro are still officially available only in the often unsearchable .pdf format. There is no ''budget for citizens'' at the state level, so any budget examination is difficult. Therefore, ''My Money'' was created with the intention of creating a tool for citizens and civil society, who will have easy and simple insight into the details of the state budget, an important part of the debate on all public policies and activities of public administration.
Version of the portal presented at the workshop has been improved, both in terms of functionality and in terms of content:
 The portal now contains almost a full decade of budget data – all annual budgets since 2011 until now are shown. Budget data can be searched by economic and organisational classification, i.e. by type of incomes and expenditures, as well as by institutions, with a detailed overview of all programs.
One of the new contents is the review of the implementation of the Public Finance Management Reform Program, a strategic document by which the administration, among other things, committed itself to a radical change in the way in which it plans and represents budget spending. Portal provides to find out in a transparent way that what the Government has promised and to monitor the
implementation dynamics of the Program.
 Improved display of capital budget provides the search of capital projects in the municipalities and programs in which they are being implemented or the amount of the budgetary funds allocated to the project. The basic data on the projects are completed with extracts from the reports of the Public Works Administration and Traffic Administration, so that they can inform the citizens about what was done to implement the promised project
The portal also contains a ''Budget Dictionary'' with definitions of all budget terms, as well as a ''Budget Library'' that contains all annual budget documents since 2011 until now together with the laws and by-laws regulating this area.
At the workshop for civil society representatives, project coordinator Dina Bajramspahić and project assistant Nikoleta Pavićević, presented guidelines for using the portal and many practical examples.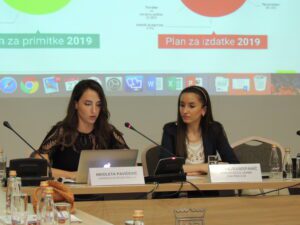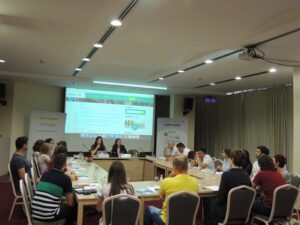 Workshop was organised within our project "Money Watch – Civil Society Guarding the Budget" that we implement in partnership with Institute of Public Finance from Zagreb and NGO New Horizon from Ulcinj. The project is financially supported by European Union and co-financed by the Ministry of Public Administration of Montenegro.