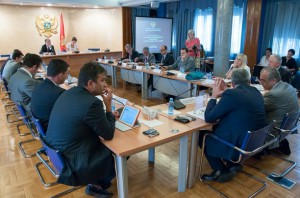 Parliamentary opposition does not have a representative in the National Security Council, after having failed to appoint a deputy chairman of the Committee for Security and Defense from its own lines for over five years.
The Law on the Basis of the Intelligence and Security Sector prescribes the composition of the National Security Council. Among others, it comprises also the chair and deputy chairman of the Committee for Security and Defense. However, at the yesterday's session, the Government adopted a decision on the appointment of the Council members, which did not include the deputy chairman of the Committee for Security and Defense, but only the chairman.
Council for National Security has, albeit insufficiently regulated, important responsibilities for coordination of intelligence and security sector, improving the exchange of information between departments and policy formulation in this area.
In accordance with the Rules of Procedure of the Parliament, Deputy Chairman of the Committee for Defense And Security is elected from the ranks of the opposition political parties. However, the opposition is failing to reach an agreement on this issue since 2009 and the Committee is working without a Deputy Chairman for over five years now.
The position of the deputy chairman is very important, bearing in mind the competences of the Committee in the field of democratic and civilian control of the security and defense sector. The position bears additional responsibility to initiate a proactive use of control mechanisms behalf of the opposition, to monitor the state authorities of the sector which, by their nature, are prone to abuse because of the repressive powers at their disposal.
Opposition is giving very harsh assessments of the reforms of the security sector and defense that, and the fact is that this sector is still burdened by a number of unresolved issues. It is therefore necessary to have a greater participation of the Committee on Security and Defense in creating a better framework for the functioning of institutions of the sector and frequent application of the parliamentary oversight, especially when it comes to control and consultative hearings, visits to institutions, requests for information, surveillance measures of secret surveillance, etc.
We commend the provision of the Law on the Basis of the Intelligence and Security Sector that introduces an obligation for the National Security Council to report to the Parliament (Committee for Security and Defense) every two months. This established parliamentary oversight over the work of the Council and honors the principles of separation and balance of power.
Dina BAJRAMSPAHIĆ
Researcher
Related posts: