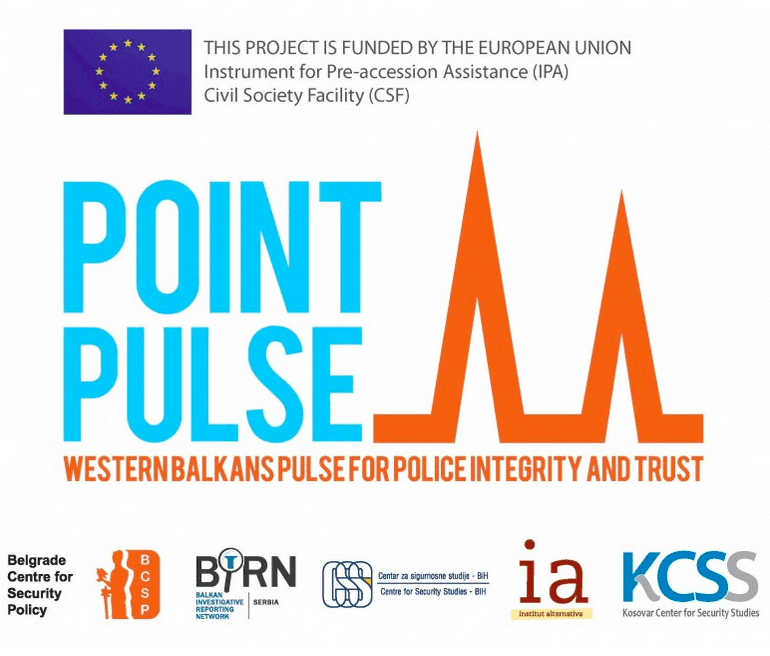 Regional network of civil society organisations POINTPULSE organises the presentation of results from the public opinion survey "Police Integrity in the Western Balkans" that will take place on Wednesday, 22 July 2015 at the PR Center in Podgorica starting at 11.00 h.
At the presentation citizens' perceptions on the following issues will be discussed:
What is the level of citizens' trust in the police?
How corrupt are the police?
What is the role of the Internal Affairs Sector?
To what extent politics influences police work?
What are the priorities in the police reform process?
At the presentation the perceptions of Montenegrin citizens on the police accountability will be discussed, as well as the comparative perceptions in Serbia, Bosnia and Herzegovina and Kosovo.
Panellists:
Stevo Muk, president of the Managing board of Institute Alternative,
Dina Bajramspahić, researcher at the Institute Alternative,
Marko Sošić, researcher at the Institute Alternative.
Working language of the presentation is Montenegrin. Simultaneous translation to English will be provided.
Due to a limited number of available seats, please confirm your attendance by Tuesday, 21 July 2015, via email at info@institut-alternativa.orgor via phone at 020/268-686.
Three separate presentations will be organised on the same day by the regional project partners in Sarajevo, Belgrade and Pristina – Centre for Security Studies BiH, Belgrade Centre for Security Policy, Kosovar Centre for Security Studies.
This presentation is organised within the framework of the "Western Balkans Pulse for Police Integrity and Trust – POINTPULSE" project supported by the European Union through Civil Society Facility programme (EuropeAid/136-034/C/ACT/Multi).