Survey results on public opinion showed that the number of citizens who do not know what is public procurement had almost doubled. Even 71% citizens explicitly stated that they did not know what public procurement meant and could not describe the term in a few words.
Ana Đurnić, Public Policy Researcher at Institute Alternative (IA) explained for PR Center that citizens do not identify what they see every day – schools, kindergartens, roads, hospitals, street lighting etc.  with public procurement, even though all this is purchased through public procurement.
"Our goal through the project "For the better use of public money!" is to shed light on what public procurement is. Also, to bring citizens closer what the money for public procurement is spent on, and to show the administration that citizens will understand public procurement much better through what they see and what encounter every day", Đurnić added.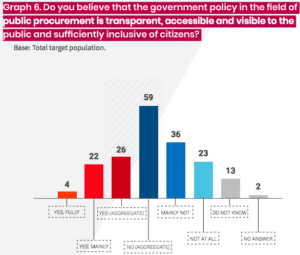 Survey results showed that six out of ten citizens (59%) believed that government policy in the field of public procurement was not sufficiently transparent or inclusive of citizens.
"These results are not surprising, since in the past five years we have witnessed numerous situations that are not in the spirit of transparency", said Dragana Jaćimović, project associate at IA.
She reminded that a good example of non-transparency was the adoption of the new Law on Public Procurement without organising a public discussion and public participation.
Since the chief social function of the media is citizen information, this survey included question on whether there was adequate media coverage of the topics related to public procurement abuse.
"According to the data, six out of ten citizens thought that the media did not pay sufficient attention to the importance of countering malfeasance and abuse of public procurement", Jaćimović said.
She stated that one-half of citizens (51%)  of Montenegro thought that abuse and malfeasance were frequent phenomena in public procurement implementation.  32% of citizens thought that malfeasance and abuse occurred mainly frequently and 19% of them that occurred very frequent.
"On the other hand, 23% of citizens thought that abuse and malfeasance were mainly rare, while only 8% stated that were very rare", Jaćimović added.
When it comes to the specific patterns of abuse, such as links between political and economic actors i.e. political parties and their donors, survey results show that three types of abuse are recognised as frequent.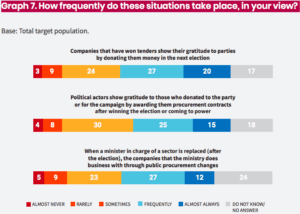 Đurnić explained that the first type of abuse – where companies, having won tenders, show their gratitude to the parties by donating them money in the next election, was seen as the most frequent one.
"20% of citizens thought that this occurred almost always, 27% frequently, and 24% sometimes. In aggregate, almost one-half of the general population of Montenegro thought that such malfeasance took place often or almost always", Đurnić added.
The second type of abuse – where political actors showed gratitude to those who donated to the party or for the campaign by awarding them procurement contracts after winning the election or coming to power, was somewhat less frequent than the first one.
In aggregate, 40% of the general population of Montenegro thought that this form of abuse occurred frequently or almost always.
Đurnić said that two-fifths of the Montenegrin public (39%) thought that the form of manipulation where a change of minister in charge of a particular sector means also a change in the selection of companies that the ministry does business with through public procurement was frequent or even regular.
"However, with this third type of abuse was also evident higher share of those undecided in their responses i.e. not sure which frequency to opt for", Đurnić explained.
Asked whether the public procurement process is better now, one-half of citizens answered that public procurement procedures and processes were being implemented in the same manner as 5 years before, so neither better nor worse.
There was an almost equal share of those who thought that the public procurement process was better (19%) and those who thought it was worse (18%) than five years before, Đurnić said.
More details on the survey results you may find in the report "Public Opinion on Public Procurement".
Open data on results of public opinion survey 2020 please find here, as well as open data on compared results from 2015/17 and 2020.
This public opinion survey has been developed by Ipsos Strategic Marketing for the needs of Institute Alternative. The survey was conducted in Montenegro between 30 January and 10 February 2020 on the sample of 1007 respondents. This survey was developed within the project "For the Better Use of Public Money!", implemented by Institute Alternative and funded by the Embassy of the Kingdom of the Netherlands.