Milena Milošević, our public policy researcher, participated at the regional Policy Forum on countering corruption, organised by SELDI Network in Skopje on 29-30 September.
Milena spoke at the panel discussion Building Institutional Competencies and Enhancing the Efficiency of the Administration.
"Montenegro might have made a greater progress in negotiation process with European Union, compared to other Western Balkan countries, but the story about the competences and efficiency of our public administration is not a story of a particular success", she said, reminding of a high expenses that are being paid from the state budget for the mistakes of state authorities.
She recalled the earlier IA's recommendations on the importance of adopting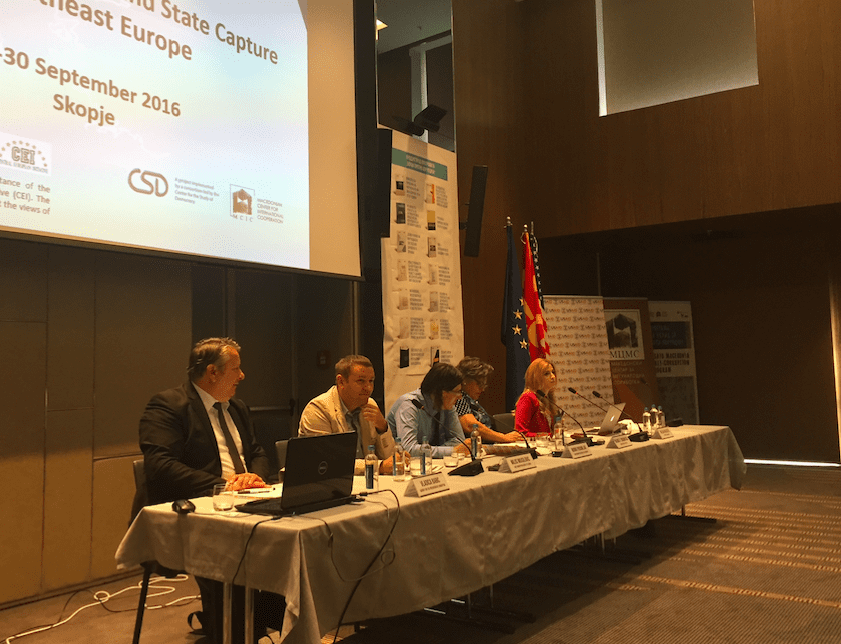 specific competency framework and improvement of measuring performance of employees in state administration.
"Nevertheless, I have to admit that these requirements, although necessary, seem to be too demanding in Montenegrin context, since we are still coping with the most basic challenges of professionalisation and depoliticisation of public administration", added Milena, emphasising that recently we have noted two cases of MPs who kept their civil servants positions.
"This violation of separation of powers illustrates how Montenegrin state have been seized by the same party since 1989».
At the conference, participants pointed out that the key obstacles to more efficient combating corruption in the region are non-transparent financing of political parties, assets declaration and seizure of property, conflict of interest, difficulties in determining accountability of legal entities, lack of independence and proactivity of institutions, excessive formalism in legislative activities and interpretation of the laws and ineffective "soft", preventive mechanisms for combating corruption.
Milena reminded attendees that Montenegro has the youngest Anti-corruption Agency in the region, which started to work in January this year.
"Earlier this year, we published a policy paper entitled Happy New Agency, and that's more or less what we have so far: another supposedly independent institution that lacks proactive approach in verifying assets declaration, improving the transparency of political parties and determining conflict of interest".
SELDI (Southeast Europe Leadership for Development and Integrity) is an anti-corruption and good governance coalition created in November 2012 by 17 likeminded CSOs from nine Southeast Europe countries.