Representative of Institute Alternative, Ivana Bogojevic, has participated in a roundtable on monitoring of public assemblies, organised by OSCE, ODIHR – Office for Democratic Institutions and Human Rights.
Roundtable was held in Vienna, from 14th till 15th December, followed by presentation of the Third Report on Monitoring of Freedom of Peaceful Assembly in selected OSCE participating countries.
The event gathered 34 representatives of civil society organisations and activists in area of monitoring of public assemblies – from Western Balkans, Eastern and Western Europe, Russia, USA.
Ivana, while speaking on trends and challenges in this area, has presented IA's this year research and study on freedom of assembly in Montenegro, focusing on key challenges, which have been identified. During discussion, special attention has been given to the questions with regard to lack of accountability of state authorities and final epilogue of last October protests. These questions refer to excessive use of force and insufficient communication between the police and protestors, recognised by our report as one of the key challenges.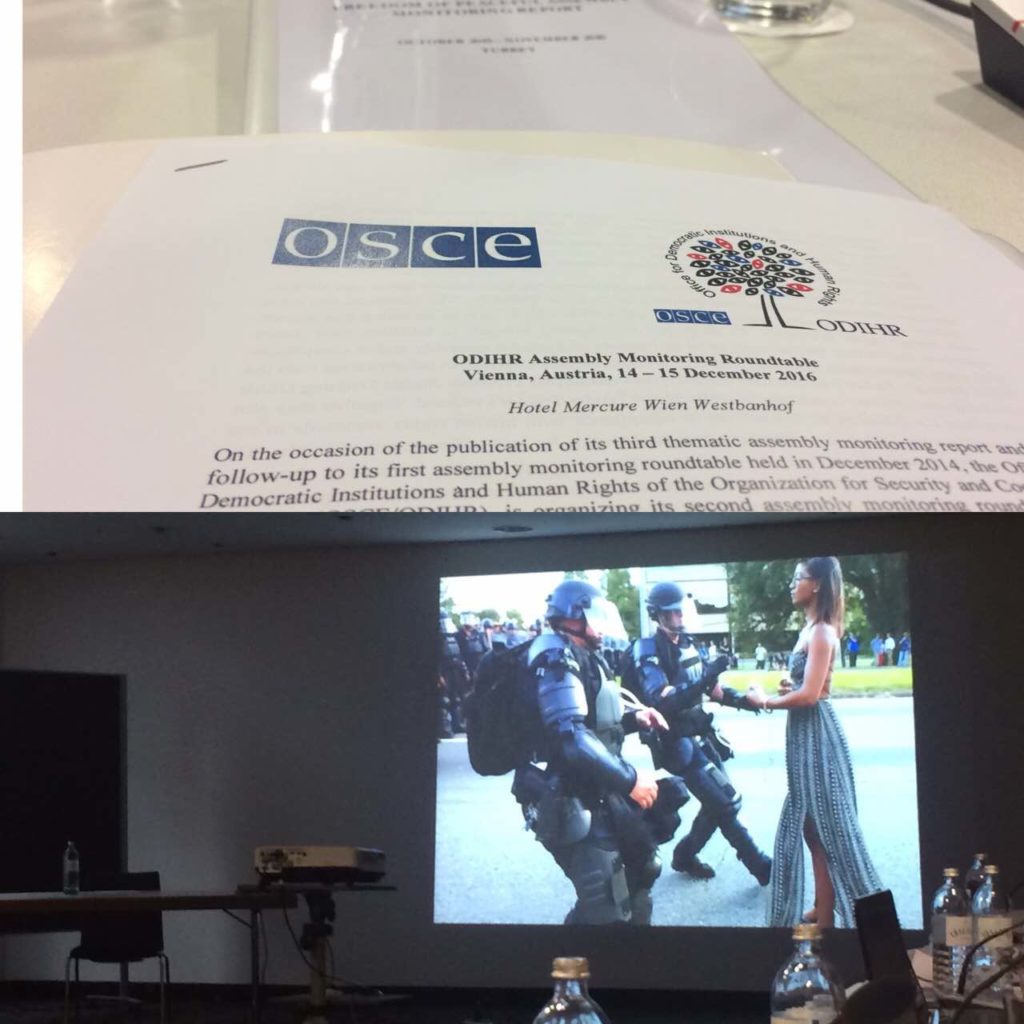 The discussion ranged from the use of diverse methodologies of numerous organisations present in this area, through the identification of the main challenges faced by certain OSCE participating states in the practice of the freedom of public assembly and public expression, and the obstacles in their monitoring, the right to privacy during protests and public meetings, to the use of social networks, as well as the fine provisions and judicial process in this context.
Exchanged experiences and provided inputs will serve as a basis for the development of a new methodology of the Office for Democratic Institutions and Human Rights, in future monitoring of public meetings.
New monitoring report, which has been discussed after the roundtable, is the result of the observation of 24 public assemblies in OSCE participating countries, between April 2015 and July 2016 (Austria, Cyprus, Germany, Ireland, Lithuania, Poland and Sweden). On this occasion, OSCE has identified the challenges and good practices in facilitating public assemblies by the authorities, and has given recommendations for better implementation of the international human rights standards on freedom of public gathering throughout the OSCE region.
Ivana Bogojević
Public policy researcher