In 2017, the Parliament, the Government and the Ministry of Finance should address better the legal regulation of the position of Protector of legal and property interests, the institution responsible for representing state interests.
In our policy brief "Public finances and the Accountability of the Administration: What does the Protector protect?", produced with the financial assistance of the European union within the project Civil society for Good Governance: To Act and Account, pointed out to the key problems in legal status and work of the Protector of the property and legal interests of Montenegro.
Mentioned problems are reflected in the ambiguous position of this institution in the public administration system, flawed appointments of the Protector, deputies and their overload.
On annual level, protector and the deputies, as legal representatives of state administration and other legal entities founded by the state, had over 1.400 cases.
The institution of the Protector lacks in transparency. The Protector does not have own Internet presentation nor a Guide for free access to information. Available reports of the Protector are too sparse, and typically contain just a list of
 parties and the value of cases, without further details on the proceedings and the efficiency of the Protector.
There is no information on the way the dispute was conducted (in or outside of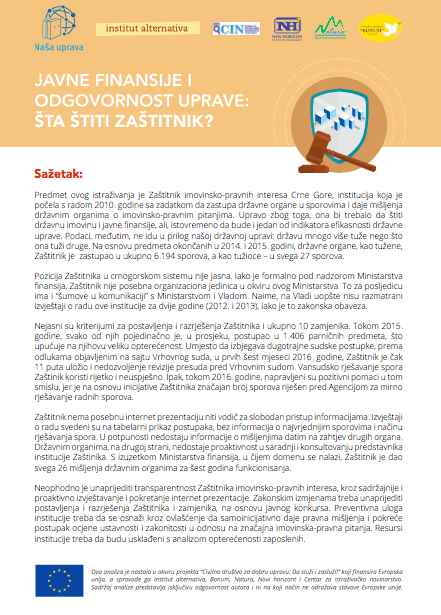 court). There is no record whatsoever of the opinions provided by the Protector to other public bodies, or any analysis of or further information about the most valuable cases. Beside, for two years, 2012 and 2013, the Government never even discussed the reports of the Protector, though it is legally bound to do so.
The current legal status of the Protector is not adequate considering it importance. For instance, its counterpart in other countries of former Yugoslavia is the state or public attorney.
The total amount paid to other parties based on the decision s
taken in 2014 and 2015 in the cases in which the Protector 
represented various bodies of the Montenegrin state was over
 14.5 million euro.
Again, this is only part of the money that is lost from the budget in the context of disputes in which the Protector represented state bodies. Government's interest to improve the situation of these institutions, despite the declarative commitment to analyse its position, is actually inversely proportional to its importance. This is also reflected in the budget for 2017, given the fact that the financial resources Protector have been reduced by 20.000 euros, compared to the previous year, despite the recognized need for additional staff and improving the electronic records of the institution.
Milena Milošević
Public Policy Researcher