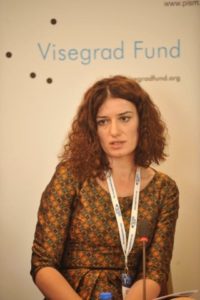 Research Coordinator Jovana Marović participated in the Belgrade Security Forum, at the special side event Visegrad Experience for the Western Balkans: NGO Support for Key Reforms.
Jovana spoke about the challenges of participation of NGOs in the negotiation process, with special emphasis on the limitations in the work of NGO representatives within working groups. The focus of her presentation was also on the current reforms in the area of fight against corruption.
The publication "Civil Society in the European Integration Process in the Western Balkans", dedicated to the framework for CSOs' participation in the negotiation process, was presented at the panel as well. The report is co-authored by 20 experts from the civil society in the Western Balkans, directly involved in the negotiation process.
Besides Jovana, the panelists were:
Marko Savković, Belgrade Fund for Political Excellence;
Goce Kocevski, Macedonian Young Lawyers Association;
Tomasz Żornaczuk, Polish Institute for International Affairs (Moderator).
More information on the panel can be found at the BSF website.