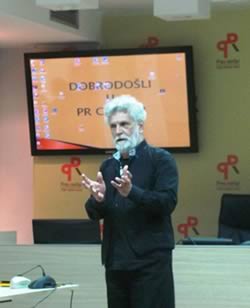 On Monday, April 22, at 18 o'clock, has been held the second block class of the Public Policy school. Class was dedicated to the anti-corruption policies as an example of sector policies, which was explained by professor Zoran Stojiljkovic.
The topic (keyword):
In order to develop a comprehensive research model, the prior attempt is to detect the corruption's nature by linking the complex maps analysis of its manifestations, type and stakeholders with insight into its motivations and broader systemic and cultural causes.
Consequently, the core of any anti-corruption strategy can be seen in the creation of space and chances for defining corruption as unacceptable, unprofitable, followed by the practice of reducing monopoly and discretionary powers with a corresponding increase of moral, political and criminal responsibility.
Two hours long lecture was held at the PR Center in Podgorica.
Short biography of the speaker:
Professor Zoran Stojiljkovic got his PhD at the Belgrade's Faculty of Political Sciences in 2006, with thesis: "Political Parties and Party Systems in the Federal Republic of Yugoslavia." His most important published books are: "The party system of Serbia", "The Role of Trade Unions in Transition" and "Democracy's Dictionary." He has published numerous collections of articles.

At the Faculty of Political Sciences in Belgrade he is engaged in courses: Political sociology and Sociology of contemporary society. He is is also a guest professor at the Faculty of Political Sciences in Podgorica on subjects: Public policy, Comparative party systems, Electoral and party systems, etc.

He has participated in many research projects, among which are: The political organization of the FRY How to survive the transition – public opinion in Serbia, Fragmentation of unions and the ability of common activities, The electoral choice of the citizens of Serbia, Problems of the political system democratization ; etc..

He is a board member of the Anti – Corruption Agency Serbia.
The Public Policy school project is supported by the Commission for the allocation of gambling revenue and managed by Institute alternative in collaboration with the Centre for Research and Monitoring (CEMI).