Institute Alternative (IA) is organizing the workshop ''Where Does My Money Go'' in order to introduce representatives of the NGO sector and the media with our innovated website ''My Money'' and to provide instructions for easy search.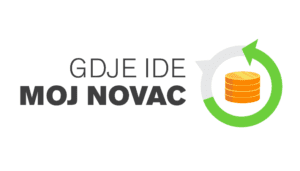 The aim of presentation is better understanding of its future users of the budget and its higher availability in a way that budget information can be accessed through a single click. The visualization of the budget allows easy check on how the state collected and spent money and also gives access to the budgets of individual institutions by years and programs filters. Capital projects can also be accessed on the website, by using interactive map of Montenegro, which contains an overview of capital projects and its information. In this regard, we will present practical examples to show how these information can be found on the website.
Speakers:

Dina Bajramspahić, project coordinator
Nikoleta Pavićević, project assistaint
The workshop will be held on Thursday, June 27, at the hotel ''Podgorica'', starting at 11 am. This activity is conducted within the project ''Money Watch: Civil Society, Guarding the Budget'', which we implement with the Institute for Public Finances and NGO New Horizon, with the support of the European Union and the co-financing of the Ministry of Public Administration.