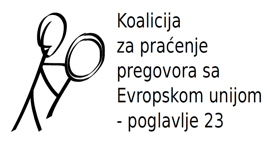 Dina Bajramspahić, our policy analyst, took part in the three-day training to improve the capacity of the members of Coalition of NGO's for monitoring the negotiations in Chapter 23 – Judiciary and fundamental rights.
Training was an activity within the project "Let's make the negotiation process public" that is being led by Centre for Development of NGOs (CRNVO). The Coalition brings together 15 non-governmental organizations in order to prepare recommendations to contribute to the situation in the area of judicial reform, fight against corruption and human rights. From 17 to 19 April training participants had an opportunity to learn all about the Montenegrin framework for the negotiations and about Montenegrin Coalition of NGOs for monitoring the negotiations, and, at the same time, the experience of Croatian Platform 112, which had the same mission during the Croatian negotiations in Chapter 23
With a review of the most important dates in the European integration of Montenegro, Dr. Jovana Marović, who is a research coordinator in IA, and member of the working group for negotiations in Chapter 23 as one of the four representatives of NGOs in this chapter, explained the Montenegrin context. She presented the negotiation structures in Montenegro, decisions on establishing working groups, rules of procedure of the working groups, and, also, gave an overview of the currently formed working groups. She also explained the role of the Parliament in the process (the institutional framework for the reviewing negotiating positions, cooperation with civil society, the Action Plan for strengthening the legislative and control function of the Parliament in 2013) and the contents of Chapter 23 (benchmarks, Screening Reports, negotiating positions, Action plans, and the dynamics of the negotiations, etc.).
The possibilites and chances of the process of negotiations with the EU in Chapter 23, explained Eugen Jakovčić, whose organization Documenta is a member of the Platform 112, which had joint successful activities during the Croatian negotiations in this chapter. He explained Croatian experience in negotiations and the various aspects of the experience of their informal coalition of civil society organizations, which is indicated on the burning issues in the areas that are engaging in this chapter in Croatia.