Montenegro must finally move forward from simulating the reforms and comprehend that being called or considered the frontrunner in the EU integration processes is not something it should lean on but rather a burden and a litmus test.
This was announced at the roundtable "Shaping the Way for Montenegro's EU Integration – Key Challenges and Current Political Developments" which was organised on May 17th by the Centre for Monitoring and Research (CeMI) in cooperation with the Aspen Institute in Berlin.
At the roundtable, it was concluded that, in order to overcome current situation in Montenegro, the EU should be outspoken when it comes to clearly stating where the problems are ,as well as to start using the instruments it has at its disposal.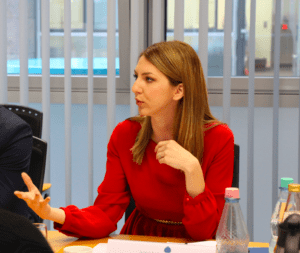 Ana Đurnić, public policy researcher at Institute Alternative (IA), stated that environment in which elections take place in Montenegro is far wider and longer process than the electoral campaign or election day only, which is why the European Commission should provide its own assessment and not rely on OSCE ODIHR mission report only.
"Fair and democratic elections are influenced by number of long lasting governance failures including among many others, monopolies and corruption in public procurement, political party employment in public sector, misuse of discretionary powers in distribution of budgetary funds, social benefits, loans to individuals and companies", she added.
She pointed out that the most recent "Envelope" affair clearly showed that there is no political accountability for electoral frauds and corruption in Montenegro and that Montenegrin institutions very superficially perform their role of preventing and prosecuting such cases.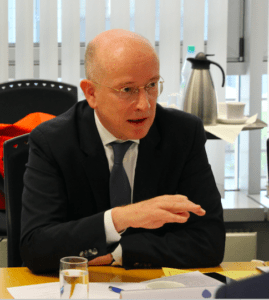 Ambassador Christian Hellbach, Special Envoy of the Ministry of Foreign Affairs of Germany for Southeastern Europe, Turkey and the EFTA countries, gave an overview of the progress made by the Western Balkans countries and challenges they encountered on the path of EU integration processes.
He pointed out that even though opening negotiation chapters is important, closing them is what really counts.
Ambassador Hellbach also stressed out there is an imperative necessity to enable comprehensive reforms aimed at changing current political habits and eliminating structural deficiencies within the state institutions in Montenegro.
Zlatko Vujović, President of the Governing Board of CeMI, spoke about the necessity to work on further strengthening of the rule of law and over-bridging the existing elements of state capture.
In this regard, Montenegro remains still profoundly marked by an extensive political interference and abuse of state resources, which further impedes establishment of independent judiciary and accountable state institutions which are essential for achievement of the necessary socio-political and economic changes.
Vujović added that the context of the state capture and the opposition's long-lasting boycott of the Parliament only feeds a sentiment of inequality and impunity as well as the public mistrust in the integrity of the Government's work.
Nikoleta Đukanović, CeMI's Executive Director, voiced concerns regarding the unfinished reforms in the field of election administration and inoperability of the Committee which was responsible of preparing long-awaited legal solutions as well as to work on preventing abuse of state and administrative resources, increasing transparency and establishing common ground among different parliamentary fractions.
As in the case of electoral reforms, delivery of concrete results in the area of rule of law is impeded by the lack of political will and tendency to protect private before the public interest.
"In this regard, it is expected that EU will support the efforts of the civic society and other relevant parties to move forward with comprehensive and structural reforms which represent the cornerstone of democracy."
The event was organised within the project "Raising CeMI's Policy Expertise and Policy Impact on the National and International Level", financed by Open Society Foundations – Think Tank Fund.