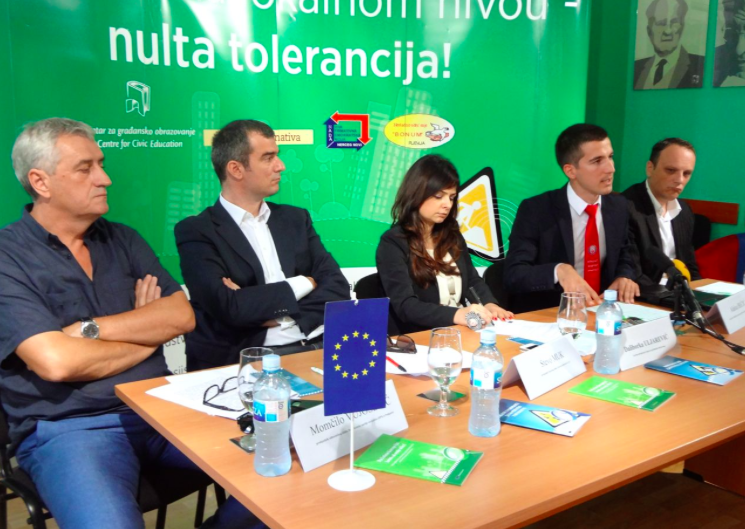 Centre for Civic Education (CCE) organized a panel discussion today, entitled "The Impact of Political Corruption on the Municipal Decision-Making Process". The event was part of the project "Corruption at the Local Level – Zero Tolerance". Opening remarks and keynote speeches were delivered by Daliborka Uljarević, Executive Director of Centre for Civic Education (CCE), and Stevo Muk, President of the Managing Board of Institute Alternative (IA).
Stevo Muk emphasized that political corruption is not only limited to abuses related to the election process (voting for MPs and councilors) or the ones related to the appointment of other officials by the elected representatives (in the parliaments). In spite of being most recognizable in the aforementioned processes, positions that are in fact most susceptible to corruption are those implying broad range of authorities, such as positions of mayors and persons in charge of public companies and institutions, especially municipal agencies for construction and development. In addition, he pointed out to the lack of proactive prosecutions. Muk also spoke about the impact of political corruption in the areas of employment, public procurement and public-private partnerships. It is reflected in the surplus of employees in all municipalities as a result of misuse of the possibilities of limitless and irrational employment, followed by the violations of legal procedures in the public procurement and avoidance of the usage of transparent procedures, as well as the lack of clear regulations, professional capacities, transparency, competition, and risk sharing methodology. Everything listed above represents breeding ground for corruption in the area of public-private partnerships.
A more detailed report from the panel discussion is available at the website of Centre for Civic Education (in Montenegrin)
The panel brought together about 30 representatives of municipal governments covered by the project, competent state authorities, political parties, NGOs, the media, diplomatic core, etc.
Objective of the project "Corruption at the Local Level – Zero Tolerance" is to strengthen the role of civil society organizations, municipal governments and competent authorities in policy development, as well as to monitor and campaign for the decrease of corruption in Montenegrin local communities. More specifically, the project aims to strengthen the implementation of anti-corruption policies at the local level, as well as to raise citizens' awareness on the importance of effective anti-corruption mechanisms and procedures in 14 Montenegrin municipalities: Podgorica, Cetinje, Nikšić, Danilovgrad, Herceg Novi, Kotor, Tivat, Budva, Bar, Rožaje, Pljevlja, Mojkovac, Kolašin, and Plužine. Within the framework of this project, consultative trainings and panel discussions were organized, followed by the implementation of local action plans and creation of policy studies on topics recognized as the most risky for the emergence and development of corruption at the local level.
The project "Corruption at the Local Level – Zero Tolerance" is implemented by Centre for Civic Education (CCE), in cooperation with Institute Alternative (IA), NGO Nada, and NGO Bonum. It is supported by the European Union through the EU Delegation to Montenegro and IPA 2011, and co-financed by the Royal Norwegian Embassy.