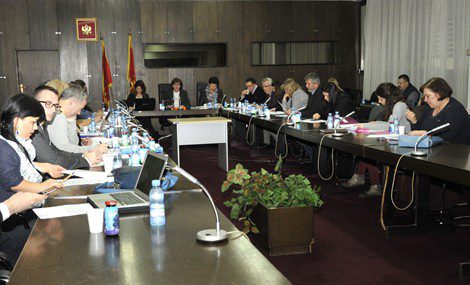 Owing to the votes of the NGO representatives, last year's Performance Report of the Council for Development of NGOs was not adopted while today's session was once again marked by the negative attitude of the Ministry of Finance towards initiatives of NGOs.
As their key remarks, NGO representatives stated that the Draft Performance Report of the Council does not reflect the suggestions and proposals made by the Council members coming from the non-governmental sector. Furthermore, they specified that the Report should contain information on the key problems encountered, as well as clarifications and reasons for failing to achieve any significant performance outcomes.
During today's session, the Council deliberated on the Information on Preparation of the Law on Games of Chance submitted by the Ministry of Finance, as well as on the Opinion of this Ministry on the Draft decree on rules and procedures for granting state property for the use of NGOs, which was proposed by the Coalition of NGOs "Through Cooperation to the Aim".
The Ministry of Finance and the Government did not include adoption of this decree in this year's Work Programme, which is not in accordance with the 2012-2016 Strategy for Development of NGOs. Moreover, one of the main priorities of this strategic document is to regulate the allocation of state property for the use of NGOs. Additionally, the Ministry of Finance once again informed the Council that "it has no new or relevant information" on the destiny of amendments to the Law on Games of Chance. I believe this to be the proof of relentlessly negative attitude of the Ministry towards the Council, which thus performs a direct obstruction of its work since this body remains deprived of complete and timely information relevant to its work.
The session was marked by the repeated refusal of the Government representatives to adopt amendments to the Internal Rules of Procedure of the Council. Namely, the joint proposal of the NGO representatives was rejected, after which I left the session. As a reminder, the Government representatives insist on the obligation for the members of NGOs to meet a full range of farcical and irrational bureaucratic requirements in order to obtain the right to place topics on the Council's Agenda.
Stevo MUK
President of the Managing Board