Five students from the Faculty of Political Science completed a month-long intensive training at Institute alternative within the project "Active Students for Sustainable Development" that we are implementing in cooperation with Centre for Civic Education.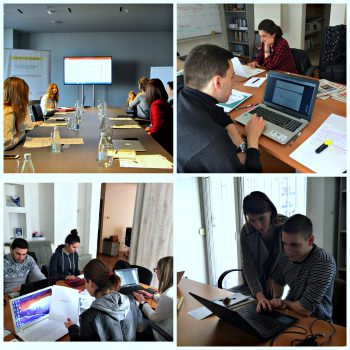 From 22 February to 22 March, five students from the Faculty of Political Science had an opportunity to go through a training within Institute Alternative programme areas. Before the start of the training, the interns participated in a workshop on the basics and the cycle of public policy, focusing on monitoring and implementation that are often lacking in Montenegro, as well as the financial aspects of public policy.
The interns worked under the mentorship of our researchers, where they covered topics from our programme areas: public administration reform, parliamentary oversight of the security sector, public procurement at the local level, as well as financing of local self-administrations.
The goal of the project is improving the skills of students in the final years of their studies at the Faculty of Political Science through strengthening capacities and cooperation of educational institutions and research centres.
The project "Active Students for Sustainable Development is financed by the European Union through the Directorate for Finance and Contracting of the EU Assistance Funds (CFCU) of Ministry of Finance within the programme "Transfer of Knowledge between the Sector of Higher Education, Science and Industry"