The Southeast European Leadership for Development and Integrity (SELDI), through its grants coordinator the Centres for Civic Initiatives (CCI), is seeking proposals for Support to Local Civil Society Organisations in Pursuing EU and Regional Anti-Corruption Agenda in IPA countries from the Western Balkans (Albania, Bosnia and Herzegovina, Kosovo , Macedonia, Montenegro, Serbia and Turkey).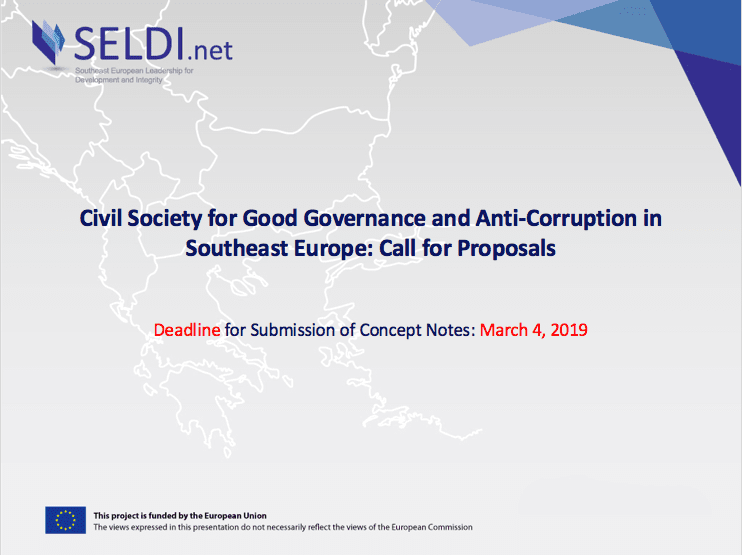 The grant scheme is supported by the European Commission through financial assistance for the Project "Civil Society for Good Governance and Anti-Corruption in Southeast Europe: Capacity Building for Monitoring, Advocacy and Awareness Raising (SELDI)".
The overall objective of this call for proposals is to provide support to local CSOs in pursuing the EU and regional anti-corruption agenda in the target countries, and in line with issues identified by the SELDI Regional Anti-corruption Report (RAR), the SELDI Corruption Monitoring System and the SELDI Strategy 2020.
The specific objective(s) of this call for proposals are: strengthening the grantees' participation in regional networks and enhancing their capacity to analyse, monitor and advocate more effectively anti-corruption and anti-state capture measures and act as recognisable and credible agents of change through carrying out innovative demonstration activities.
The overall indicative amount made available under this call for proposals is EUR 60,000. Any grant requested under this call for proposals must fall between the following EUR 5,000 minimum and EUR 12,000 maximum amounts.
Deadline for submission of Concept note is 4 March 2019. Concept notes must be submitted electronically via email to: seldigrants@ccibh.org.
All the questions about the Call for proposals should be sent via e-mail, to seldigrants@ccibh.org. Deadline for submitting questions is 11 February 2019. 
Application package and additional information are available for downloading at the link bellow.