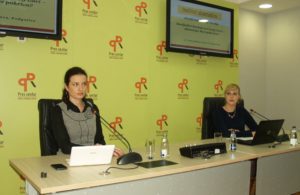 At the press conference organized on December 17th 2012, we presented our policy paper entitled "Social Card in Montenegro – high hopes?".
This research is a part of Institute's permanent activities related to the monitoring of social policy reform process in Montenegro and to suggesting of innovative solutions in this area.
The speakers on the press conference were the author of this policy paper Dragana Radović and the research coordinator in the Institute Alternative Jovana Marović.
The goal of this research is to identify challenges in the implementation of this strategically important project which the Government of Montenegro began to implement after 12 years of waiting and to provide recommendations to overcome them. The "Social Card – Social Welfare Information System" is the intention of the Government of Montenegro to create electronic database of all (potential) beneficiaries of rights in social welfare system which will help in improving targeting of funds of the state budget for this area, standardizing procedures for entitlement of social rights, reducing abuses and ensuring efficient planning of various measures and programs intended to socially vulnerable population. The success of the reorganization of centers for social work and complete reform process of social welfare depend on the realization of this project.
The objective of this policy paper is to indicate on the expected effects and challenges of establishing the social welfare information system and offer recommendations for further improvement of this project, partly relying on the comparative practice of countries in the region.