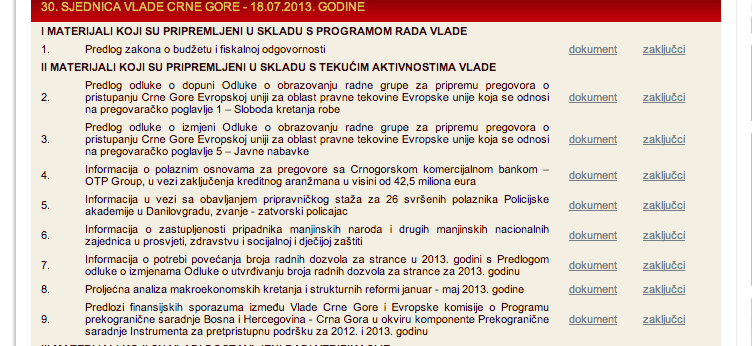 Plan for the reorganization of public administration, although adopted at the Government's session on July 18, is sill not published at the Internet, which is opposite to the Government's decision on publishing its materials and undermines transparency of its work.
The proposal of the report on progress Montenegro achieved in the period between April 25 and July 1, prepared by the Ministry for Foreign Affairs and European Integration for the European Commission, states that the Government adopted Plan for the reorganization of public administration on July 18 this year.
The document, however, cannot be found among the materials from the session held on that date, which were subsequently uploaded onto the Government's website.
Institute Alternative (IA) reminds that the Government obliged itself to publish all the law drafts and proposals, public debate reports, proposals of decrees, decisions, strategies, plans, reports and information, drafts and proposals of agreements, proposals for the appointments and dismissals, which are considered at its sessions, under the condition that these documents are not classified as confidential.
We thus call on the Government to ensure the public insight into the aforementioned plan, which lays foundations for comprehensive public administration reform in the country.
The mere fact that one third of Montenegro's employees works in public sector makes the need for publishing this document more urgent.
So far, only the 2012 draft plan for reorganization of public sector, which envisaged drastic cuts of employees in public administration bodies, is publicly available.
Only in the Police Directorate, which currently has near 5,000 employees, this plan envisaged decrease of employees by 10 per cent in 2013 and 2014, and by additional 15 per cent in 2015.
Milena Milošević
Policy Analyst