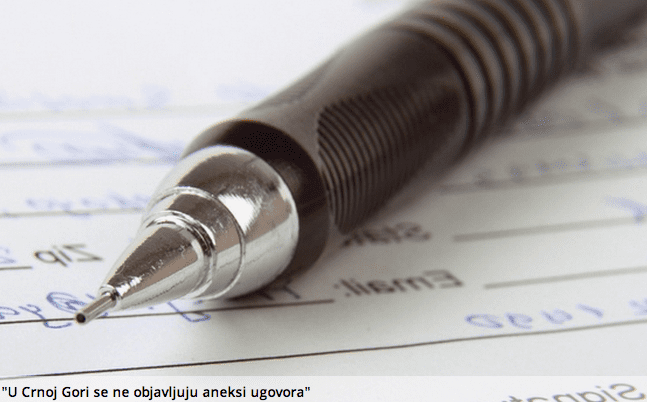 Although they belong to one of the six high-risk areas for corruption in Montenegro and improving control over the implementation of concluded contracts is a crucial criterion for the progress in the negotiation process under Chapter 23, control of public procurement is still limited and worrying.
The share of public procurement in the total GDP in 2014 will be about 15%, as estimated by the Ministry of Finance, which is almost twice more than in 2013. The huge amount money that is allocated from the budget for the procurement of goods and services is inadequately controlled. The reasons for this should be sought in the limited capacity of relevant institutions, lack of transparency, and responsibility for repeated violations of the Law on Public Procurement. In addition to being late with the adoption of amendments to the Law, the proposed amendments are debatable. They do not impose an adequate solution to control the implementation of public procurement contracts, since the Administration for Inspection Affairs is not capable to control, even while working at full capacity, more 5000 contracts concluded annually. Direct agreements are not included in this number.
Annexes to the agreement are not being published in Montenegro although they alter the basic provisions and meaning of the contract. This, consequently, leaves a lot of space for a significant corruption. Also, data on procurement that were concluded by direct agreement between the contracting authority and bidders are inaccessible, although on several occasions, the State Audit Institution indicated that the use of this procedure is being abused. Activities of the State Audit Institution in the implementation phase of the contract are of a great importance for the improvement of public procurement.
The Law does not define all possible offenses in public procurement procedures. For example, the purchaser shall not be liable for submitting incorrect or incomplete information. Moreover, there is still no established criminal responsibility for irregularities in public procurement, since the final judgment of corruption in this area has not yet been made.
In order to improve control of public procurement, Institute Alternative, supported by the Embassy of the Kingdom of the Netherlands, started the implementation of the project "Civil society and citizens against corruption in public procurement." The project will last 12 months, while the activities will aim at strengthening cooperation between non-state actors in joint efforts in identifying irregularities in public procurement as well as formulating recommendations for improvement.
Jovana Marović
Research Coordinator