Contracts on municipal debt reprogramming in Montenegro are not proactively published on the websites of the Ministry of Finance and local authorities; instead Institute Alternative had to pay in order to publish this important information on its website My town (Moj grad).
Institute Alternative received contracts on municipal debt reprogramming for 16 municipalities in Montenegro from 2015 via freedom of access to information requests.
Contracts, which were signed between the Ministry of Finance and 16 Montenegrin municipalities, define the conditions under which the debt for unpaid taxes and contributions on salaries of employees in local governments, including institutions and enterprises established by the municipality, will be reprogrammed.
The importance for these contracts to be available to public is stressed by their overall values of € 90 million. That would be in the spirit of the Law on Free Access to Information, that supports the proactive disclosure of information of public interest. However, contracts are only available via request.
This is not a unique case of insufficient transparency of information on the state of the local governments. We remind that the Institute Alternative initiated administrative proceedings against the Ministry of Finance in December last year, after we were illegally denied access to information on local finances, which were adopted by the Government in July 2015.
Municipalities that have signed a contract with the Ministry of Finance are: Danilovgrad, Budva, Pljevlja, Šavnik, Bijelo Polje, Nikšić, Mojkovac, Kolašin, Cetinje, Andrijevica, Bar, Berane, Rožaje, Plav, Ulcinj, Žabljak.
Nikšić Municipality should settle the highest debt of nearly € 18 million, while Andrijevica Municipality is obliged to settle the smallest debt, of approximately € 370 thousand.
Contracts determine the period of tax debt reprogramming. Most municipalities have two decades at their disposal, but this is not the case with coastal municipalities, Budva and Bar, where multimillion debts reprogramming has to be conducted in five years.
You can access the contracts on tax debt reprogramming, in general, on IA portal, My town (Moj grad).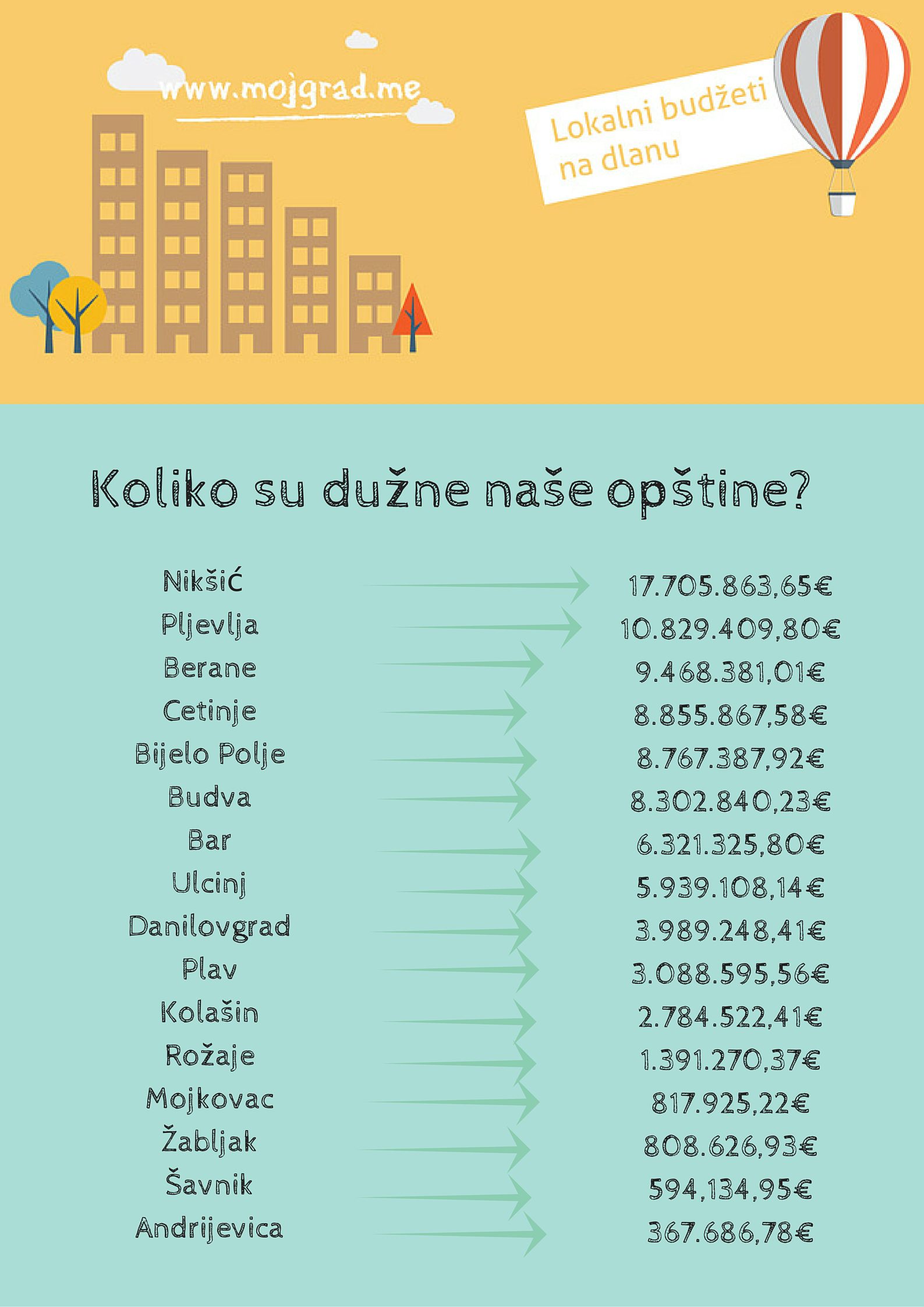 IVANA BOGOJEVIĆ
Project Associate