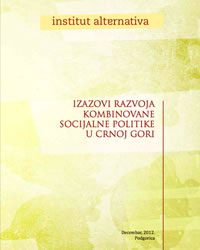 At its last session, the Government has verified the Report of the Commission for allocation of revenue from gambling on expenditure of funds awarded by the Decision on allocation of revenue from gambling for 2011 to the organizations whose projects were under audit. Selected audit company conducted financial monitoring of all plans and programs of organisations which have been allocated more than 30 000 euro. Audit and monitoring also included the projects of 18 organisations that have been awarded projects worth less than 30 000 euro.
Among audited projects was also the project of the IA entitled "Challenges of developing the welfare mix in Montenegro", in the amount of 11 350 euro. Audit confirmed that IA's project was conducted in compliance with the contract signed between the Commission and IA and that all funds were spent as it was provided by the projects budget, in accordance with the contract obligations and the law.
IA is a member of NGO coalition "Through Cooperation Towards the Goal", a self-regulatory body, and has provided all relevant information about its financial management in accordance with the NGOs Code of Conduct, of which IA is a signatory. All our financial reports of are publicaly available here.