As we await the constitution of the new convocation of the Parliament, we provide a comparative overview of the previous MPs' work.
Our analysis of the annual reports of the Parliament in the last four years has shown a continuous increase in extraordinary sessions of the Parliament, alongside control hearings.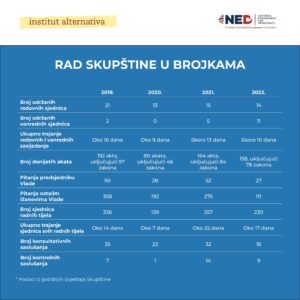 The outbreak of the coronavirus pandemic has affected the intensity of parliamentary activity: in 2020, twice as many laws were passed compared to the average of the other three years.
However, mechanism of parliamentary questions was the least utilised during the previous year, 2022, during which votes of no confidence passed in the 42nd and 43rd Government of Montenegro.
On the other hand, parliamentary committees worked the longest in 2021, with the Committee on Economy, Finance, and Budget being the most active, while the highest number of sessions was held back in 2019, with the Legislative Committee leading with 49 sessions. The fewest amount of sessions were held in 2020.
Overall, the Anti-corruption Committee is the least active parliamentary committee. Its passivity is particularly noticeable during 2020, 2021, and 2022. The Committee on European Integration is also among the least active committees, even though it is another working body with a so-called horizontal mandate to oversee the process of Montenegro's harmonization with EU standards.
Furthermore, the recognised trend of increasing legislative initiatives by MPs from 2019 to 2022 indicates the necessity of closer regulation of the law-making process, considering that they are not obliged to conduct public consultations and regulatory impact assessments.