Milena Muk, a public policy researcher at the Institute Alternative (IA) was one of the panelists at the conference "Rule of law monitoring for EU countries and candidates: Bridging the Gap", in Skopje, North Macedonia, organised by the European Policy Institute (EPI).
During the panel, Muk stated that Montenegro finds itself in an unprecedented situation, primarily due to the change of government that occurred after 30 years of single-party dominance.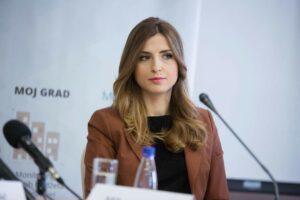 Advancements in the legal framework, particularly the introduction of a qualified majority in parliament for the appointment to the highest judicial authorities, have not prevented unjust interference in the functioning of the judiciary, as shown in the example of Montenegro.
On the other hand, Muk stated that certain progress has been made, when it comes to opening high-level cases of corruption and organised crime, despite certain legal changes after 2020, which were criticised by the European Commission. However, she pointed out that it is difficult to measure the impartiality of the prosecution, as it can not be expressed numerically through the number of cases initiated against members of the old and new parliamentary majorities. Therefore, Muk concludes that it is important to cross-check the evaluations of the prosecution's work with different stakeholders, especially civil society organisations and the wider professional community, alongside the public perspective.
The conference in Skopje was opened by the director of the European Policy Institute Simonida Kacarska, the Swedish ambassador to North Macedonia Ami Larson Jan, and the Deputy Ministre of Justice of North Macedonia Viktorija Avramovska Madić. In addition to Muk, the panel featured the representative of the European Partnership for Democracy (EPD) from Brussels, Carolin Johnson, as well as Arberesha Loxha Stublla from the Group for Legal and Political Studies from Prishtina and Denis Preshova from the Faculty of Law in Skopje.