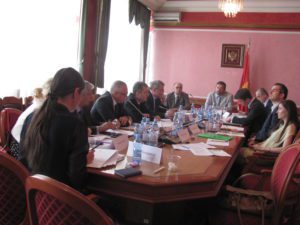 Representatives of Institute Alternative Mr. Stevo Muk, Ms. Dina Bajramspahić, Mr. Marko Sošić, and Ms. Milica Milonjić, had a meeting today with the members of the Parliamentary Security and Defence Committee in order to discus the findings and recommendations of IA's new Monitoring Report on Implementation of the Law on Parliamentary Oversight of the Security and Defence Sector.
Eight members of the Committee were actively involved in the meeting, namely the chair of the Committee Mr. Mevludin Nuhodžić, as well as the members of the Committee Mr. Obrad Mišo Stanišić, Mr. Radivoje Nikčević, Ms. Snežana Jonica, Mr. Velizar Kaluđerović, Mr. Predrag Bulatović, Mr. Suljo Mustafić, and Mr. Luiđ Ljubo Škrelja. MPs discussed the problems we had identified in relation to implementation of the Law and the exercise of parliamentary oversight of the security and defense sector. Furthermore, MPs pointed out to the obstacles they face in their work.
The meeting was an opportunity to present the results of the Committee's work in the previous year from our point of view, hear the opinions of the members of the Committee on these issues, and identify possibilities for improvement.
This is third year in a row that IA monitors the implementation of this Law, with the support of the Geneva Centre for the Democratic Control of Armed Forces (DCAF).
The novelty of this year's report is the assessment of systemic impact of implementation of this Law upon the state authorities in the security and defense sector which are subject to parliamentary oversight, as well as the analysis of views on the effects of supervision given by the representatives of nine aforementioned state authorities.
Traditionally and in accordance with the established methodology of monitoring reports, the first part refers to the monitoring of implementation of the Law in its third implementation year. For the purpose of presenting the activities of the Committee in 2013, IA researchers attended all Committee meetings which were open to the public.