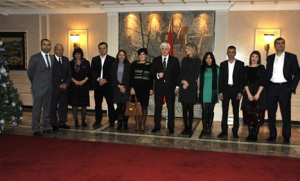 The meeting between deputy prime minister and justice minister, Dusko Markovic, and representatives of non-governmental organizations: Institute Alternative, Centre for Civic Education, Centre for Monitoring and Research, European Movement in Montenegro, Action for Human Rights, Center for Democracy and Human Rights, 4Life , Civic Alliance, and Helsinki Committee for Human Rightsn was held today.
Deputy prime minister Markovic familiarized his guests with activities that will be the top priority of the Agenda of the Ministry of Justice in the coming year, and with the priorities of the Montenegro's European, such as action plans for Chapters 23 and 24. He urged non-governmental organizations to contribute to the drafting of these documents through expert analysis, suggestions and participation in the debates.
Stevo Muk, president of the Managing Board of Insititute Alternative, expressed his opinion about the way the cooperation between the Ministry and civil society organizations can be improved, and presented key future projects of the Institute Alternative.