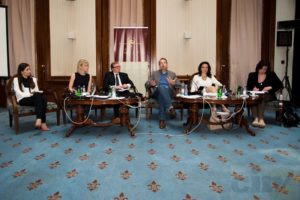 Our researcher, Dina Bajramspahić, presented the lessons learned from Montenegro in the framework of the Open Government Partnership (OGP) "Open Government Partnership in Bosnia and Herzegovina" conference, held in Sarajevo on June 9.
Analitika, Center for Social Research, in cooperation with Transparency International BiH, CPI foundation, and Center for Investigative Journalism (CIN) with the support of Open Society Foundation and the European Union, organized conference for representatives of civil society of Bosnia and Herzegovina, public authorities, experts in the field of open government, media and academia, as well as the international community in BiH. The aim of the conference was to advocate for the membership of Bosnia and Herzegovina in the multilateral OGP initiative.
Dina participated in the first panel which aimed to provide insight into the international standards promoted by OGP, the process itself, as well as the practices of other countries (Great Britain, Macedonia, Montenegro). The panel was moderated by Jeff Lovitt from Pasos.
Topics and speakers on the first panel were:
"What Does it Take to Have a Truly Open Government? International Standards and Practices" – Helen Darbishire, Access Info Europe, Executive Director,
"Where is the OGP Today? Key Achievements and Challenges" – Paul Maassen, OGP Civil Society Coordinator,
"Implementing Openness: Lessons from an OGP Founder" – Kitty von Bertele, Head of Policy and International Team, Transparency Team at Cabinet Office, UK Government
"Government Benefits and Challenges in the OGP: Learning from the Experience of Macedonia" – Irena Bojadzievska, National OGP Coordinator, Ministry of Information Society and Administration of Macedonia
"Implementation of OGP Commitments in Practice: The Experience of Montenegro" – Dina Bajramspahić, Institut Alternativa.
Panelists discussed the process, responsibilities and challenges that the Government and civil society face in the process of opening public institutions. In her presentation, Dina pointed out challenges in creating the first OGP Action Plan in Montenegro (shortcoming with the indicators, deadlines, budget, etc), as well as problems in the implementation of Action Plan (the inability of Operation Team to influence implementation of the measures and make recommendations for improvement, irregular reporting, etc) and also gave a review of where Montenegro is at this point when it comes to the obligations within the initiative.
Related posts: