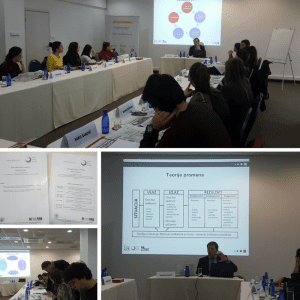 Lectures within the 3rd module of the 2016 Public Policy School were held on Friday and Saturday, 25 and 26 November in Podgorica. The lecture entitled "Evaluation of Public Policies" was presented by Dragisa Mijacic, Executive Director of Institute for Territorial Economic Development (InTER) from Serbia.
Fundamentals of public policies and the public policy cycle were presented in the introductory part of the two-day lecture, with special attention paid to the differences between often-misused terms of monitoring and evaluation. During the individual exercise, participants had the task to identify a public policy among newspaper articles and to assess which stage of the policy cycle have the identified policy reached. This was followed by the presentation of the theory of change and logical framework matrix while during the practical part of the module participants worked in groups on identifying the logical framework matrix or theory of change matrix within a policy, strategy or programme adopted in Montenegro.
The second day was dedicated to the definitions, as well as different purposes and types of evaluations. Particular emphasis was placed on the criteria for programme evaluations defined by the OECD: relevance, efficiency, effectiveness, sustainability and impact. During individual exercise, participants were asked to find examples of programme evaluations in Montenegro and to explain the OECD criteria through these examples. When it comes to conducting evaluations in Montenegro, it was concluded that although there are examples of strategic documents stating the need for carrying out monitoring and evaluation, evaluations of public policies and programmes are not done. Particular emphasis was placed on analyzing ex-ante evaluations of local development strategies in Montenegro.
The project Public Policy School – V generation is implemented with the support of the Commission for Allocation of Funds from Games of Chance and Think Tank Fund – Open Society Foundation. The School is licensed as an official program for the acquisition of knowledge and skills in the field of public policy by the National Council for Education of Montenegro.