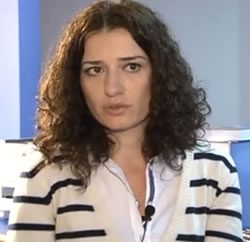 On Monday, April 8, 2013th, Jovana Marović held a lecture in the framework of the Public Policy School. She presented two topics:
– "The role of think tanks in public policy"
– "The role of Government and non-governmental actors in policy-making at EU level"
The topic (keywords):
Think Tank (definition, history, classification, activity), Policy cycle, Framework for think tank organization activities in Montenegro, decision-making procedures in the EU acquis, lobbying, interest groups in Brussels, democratic deficit.
Two-hour lecture was held at the PR Center in Podgorica.
Brief biography:

Jovana Marovic got her PhD at the Department of International and European Studies at the Faculty of Political Sciences in Belgrade, with the dissertation "The structural problems of democracy in the EU political system." At the same university got her master's degree on theses: "EU Citizenship " and "European Parliament".

She dedicated almost the entire professional career to studying the European integration process, whether in lecturing, research or professional calling. She was the EU advisor at the Ministry's of Foreign Affairs multilateral sector (2004-2007); Advisor for International Cooperation and European Integration at the President's of the Budva Municipality Office (2007-2008). Since 2010 has been employed at the Institute alternative, first as a Senior Associate in the research, and then as a Research coordinator.

She has successfully completed several specialized diplomatic programs, including Diplomatic Academy "Gavro Vukovic" in organization both Faculty of Law in Podgorica and the Ministry of Foreign Affairs. Since March 2012 she has been a member of the Government's negotiating work group for Chapter XXIII – Judiciary and fundamental rights – in preparation for the Montenegro accession to the European Union.
The Public Policy school project is supported by the Commission for the allocation of gambling revenue and managed by the Institute alternative in collaboration with the Centre for Research and Monitoring (CEMI).