Institute Alternative has presented its project "Money Watch – Civil Society Guarding the Budget", on October 6th in the EU Info Centre, which will be implemented within the period from October 2017 till October 2019.
Project activities aim at contributing to the fight against corruption by more efficient control of public spending and reducing public distrust in the efficiency of public spending.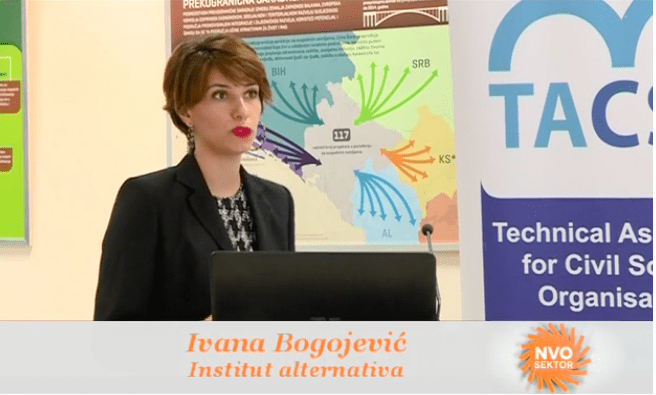 Project activities, which IA will implement with its partners in a two-year period, aim at strengthening the capacities of civil society in efficient control of public spending through the "Open Budget School", visualisation of budget data at the websites www.mojnovac.me and www.mojgrad.me , small grants program, media reporting on significant and burning issues of public money spending, as well as research and monitoring of the implementation of the Public Finance Management Program 2016-2020. The total budget of the project is 249,169.68 EUR.
The event was organised by the European Union Delegation within the civil society consultations on project programming in the upcoming period.
Alongside IA, projects were also presented by CNVP – Building a Greener Economic Environment, Centre for Monitoring and Research – CeMI, Centre for Civic Education – CCE, Centre for Development of Non-Governmental Organisations – CRNVO, Fund for Active Citizenship – FAKT, Transparency International and Network for affirmation of NGOs – MANS.
The project is implemented through the European Union Program, Civil Society Facility.
Here you can find Power Point Presentation of the project as well as link to the TV Show "NGO sector" which broadcasted the event.