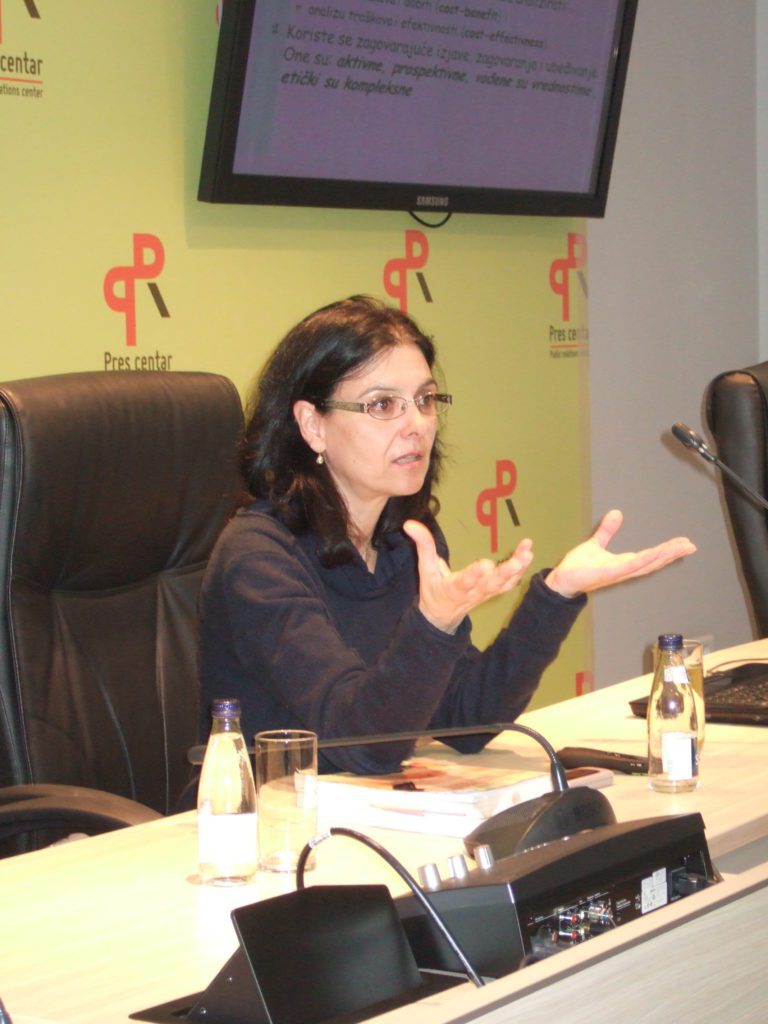 The second module of the Public Policy school was held on March 30 and 31, 2013. Program has been continued with theme: "Evaluation of Public Policies", presented by Professor Snezana Djordjevic, from the Belgrade's Faculty of Political Sciences.
On the topic (keywords):
The process of public policy monitoring and evaluation: cost-benefit analysis (cost-benefit) analysis of cost-effectiveness (cost- effectiveness); phenomenon of multiple advocacy, methods and techniques for policy recommendations, policy monitoring results, practical synthesis of research and monitoring techniques; approaches, criteria, and techniques of evaluation (evaluation) forms of the policy argumentation; benchmarking system (measuring instruments and methods of monitoring the quality and operation of local authorities in all areas of the follow-up effects).
The module is realized as a two-day seminar with interactive workshops in PR center in Podgorica.
The Public Policy school project is supported by the Commission for the allocation of gambling revenue and managed by the Institute alternative in collaboration with the Centre for Research and Monitoring (CEMI).
Snezana Djordjevic since 2008, the Professor at Belgrade's Faculty of Political Sciences and lecturer on classes: local government and public policy (undergraduate); public services, local economic development and public policy (postgraduate). At the same faculty got her PhD in year 1997.

The author of numerous books, monographs, articles in proceedings, studies, articles in journals, including: "Contemporary urban theory – the entrepreneurial, creative, democratic cities", "Policy Analysis", "Handbook of Local Economic Development," " Government in action – the world of public service "," Local Government "," The renaissance of local government – comparative models "," The reform of local Ombudsmen's work in Serbia "," Manual for the citizens and civil society involvement in the decision-making process "," Decentralization dictionary " etc..

She is a former Fulbright scholar grants (Fulbright grant) for the six-month research project on "Public Services" at the Maxwell School, Campbell Institute, Syracuse, New York, 2002-2003. She is a member of the Political Science Association Serbia.