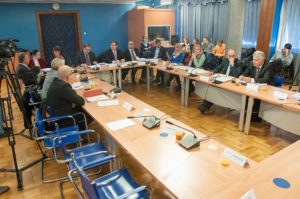 The Committee on Economy, Finance and Budget held a hearing today to discuss the Budget Bill for 2014. President of the Managing Board of Institute Alternative, Stevo Muk, attended this meeting upon invitation.
Comments of Institute Alternative on the Budget Bill refer to systematic regulation of participation of the Parliament in the budget cycle. We wish to emphasize that the regulations in force at the time being do not allow for substantial contribution of MPs and civil society in the process of budget drafting. This happens due to the budget drafting process being completely closed to stakeholders outside executive branch, with the exclusive role of the Ministry of Finance. The lack of transparency in the drafting process is accompanied by extremely tight deadlines left for the Parliament to consider and adopt the budget bill.
Furthermore, our comments refer to the necessity of introducing programme budgeting in its entirety. Even though programme budget implementation had started in 2003, programme budget at the national level has not been made yet. All consumer units formally have programmes, but these programmes do not contain indicators as means of monitoring results in realization of programme objectives.
Finally, president of the Managing Board of Institute Alternative presented number of remarks relating to particular amounts of funds allocated to certain budget units. These remarks refer to the situation entailing that numerous institutions and bodies in charge of different types of control and supervision of work of public administration will have smaller budgets in 2014, when compared to the ones in 2013. Among others, less resources for carrying out their activities will have the following institutions: the Protector of Human Rights and Freedoms, the State Audit Institution, the Audit Authority, the Commission for the Control of State Aid, the Public Procurement Administration, offence authorities, as well as the Parliament of Montenegro.
In addition to the Institute Alternative representative, today's meeting was, besides the bill drafters, attended by the representatives of State Audit Institution, Central Bank of Montenegro, Chamber of Commerce of Montenegro, Montenegrin Employers Federation, Confederation of Trade Unions of Montenegro, Montenegro Business Alliance, Association of Veterans of Wars since 1990, Association of Youth with Disabilities of Montenegro, and University Donja Gorica. Following several hours' debate, the Committee approved the 2014 Budget Bill by a majority vote.
The Committee on Economy, Finance and Budget began including representatives of civil society in the hearings on the annual budget bill during the previous assembly in 2009. Institute Alternative participates regularly in the Committee meetings since 2010.