How to revive the prosecution and stop abuses? – this was the topic of the Vijesti's TV show "Načisto", in which the guest was Stevo Muk, President of the Managing Board of IA.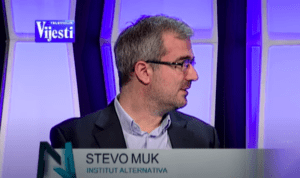 "I support the goals of this reform if those goals are, conditionally speaking, a radical reform of the Prosecutor's Office that will include personnel changes, changes at the head of the Special State Prosecutor's Office, unblocking the position of Supreme State Prosecutor and in-depth reform of the structure and conditions for appointment of the Prosecutorial Council. What I do not agree is the procedure that has been proposed. It would be natural to consult both domestic and foreign organisations. Even if this happens, the essence still remains controversial – can you pass a law just to change one article and to turn one institution upside down, as well as whether something like that can pass as a model" – said Stevo Muk in introductory part of presentation.
He added that "the only one from which this prosecution is independent is the new parliamentary majority and the new Government, but it is very dependent on the former government, the current President and all other circles related to them. I think that there is currently a join attempt to obstruct any reform of the prosecution and to keep status quo."
Muk also said that is legitimate for every citizen of Montenegro, including Milivoje Katnić, to engage in politics, but to engage in politics from the position of Chief Special Prosecutor is inadmissible and it has been going on for too long. The very fact that he is trying to negotiate about institutional, legal and other solutions from that position is an additional reason for his dismissal.
The Government and parliamentary majority should communicate very active and proactive with different addresses in the international community – European Union, European Commission with his departments dealing with negotiations in Chapter 23, the thematic centre for the rule of law. They should communicate with all those that can help in finding a model that will achieve all these goals, and that is to start "airing"  in the prosecution" , Muk concluded.
Here you may watch the recording from the show: