TV show Reflektor: What benefits do citizens have from EU negotiations?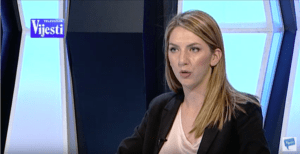 Ana Đurnić, public policy researcher at Institute Alternative (IA), was guest in TV show ''Reflektor'' broadcasted on TV Vijesti. Participants discussed Montenegro's position on it EU path after seven years of negotiations, since the last European Commission (EC) Report on Montenegro highlighted the same problems as in the previous few year – insufficient results in the fight against corruption and organised crime, unresolved attacks against journalists, misuses of state funds for party purposes etc.
Đurnić expressed concerns that Montenegrin authorities ignore EC's findings and messages, since only a few days after the publication of the Report, several affairs sparked in public – unconstitutional appointment of judges, as well as an attempt to appoint Vesna Medenica for the President of the Supreme Court for the third time, the appointment of people close to the Democratic Party of Socialists (DPS) for the members of the Council of Public Broadcaster Radio Television of Montenegro (RTCG) and efforts to prevent the appointment of opponents to the Council of the Agency for Prevention of Corruption by insisting that the candidates have passed professional exam for employment in state examination.
She also pointed out that the latest Report is a challenge for the future composition of the European Commission, bearing in mind that the statements of the EU officials have more repercussions and draw wider public attention in Montenegro than the findings from the Report, and that Montenegro is definitely no longer a ''frontrunner in the region''.
She also expressed contentment that the European Commissions' findings align to a large extent with the findings of the Institute Alternative, in particular the assessment in the area of public administration reform, free access to information, security sector fight against corruption and organised crime, etc.
Following the calls for a more proactive and credible approach of the Agency for Prevention of Corruption, which were included in the unofficial documents (so-called ''non-paper'') on the Chapters 23 and 24, the European Commission has clearly reiterated opinion on the insufficient efficiency of this institution. It pointed out the controversial Agency's decision to hide the decision by which the Democratic Party of Socialists (DPS) was sanctioned for misdemeanor for financing irregularities, which were alleged by the so-called ''envelope affair''.
Besides Ana, guest in the TV show were Marko Mrdak, Deputy Chief Negotiator, Marijana Laković, Chief Negotiator for Chapters 23 ad 24 and Ana Novaković, Executive Director of the Center for the Development of Non-Governmental Organizations.
The video of TV show is available at the following link: