On the occasion of May 9th, Europe Day, the Institute Alternative organised a movie night for students at premises of the Institute Alternative.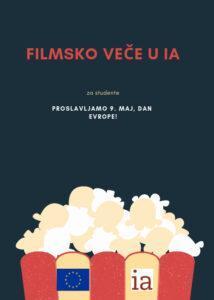 Students had the opportunity to watch two documentaries:
• Europe: From WWII To Today's European Union (2014) – Documentary shows the period from the World War II, the chronically ordered events of the creation of today's European Union, as well as the way the EU and its institutions function.
• Europe Through the Generations (Council of the EU) – Movie inspired from the book by Victoria Martina de la Torre: "Europe: A leap into the unknown". The movie shows the emergence of the EU from the perspective of descendants of those personalities who made the greatest contribution to the formation of the EU. Featuring: daughter of Alcide De Gasperi, former Prime Minister of Italy, daughter of Paul-Henri Spaak, former Prime Minister of Belgium, and former private secretary of Robert Schuman and chief of the John Monnet's Cabinet.
After the projections, a discussion about movies was held. About 20 participants had chance to exchange impressions about the movies, as well to discuss on today's Europe.
On the occasion of Europe Day, Institute Alternative posted several polls on the social media networks with the questions related to the EU. Followers on Facebook and Instagram could test their knowledge on the EU. More than 60 followers participated in the polls.
Institute Alternative Team