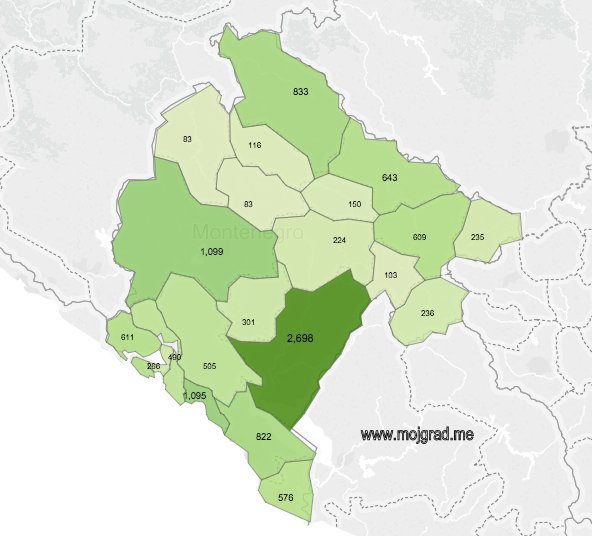 Local self-governments in Montenegro have continued the practice of non-rational employment in 2014, although they did not even adopted the analysis on maximum number of officers, nor the plan to reduce the number of employees, which had to be done until the end of last year.
All municipalities, with the exception of Andrijevica, Danilovgrad, Mojkovac and Šavnik, have conducted the recruitment procedures during 2014, even though did not meet the formal prerequisites for this. None of the municipalities implemented the obligations stipulated by Public Sector Internal Reorganisation Plan. In order to reduce the number of employees, municipalities were required to prepare and produce an analysis of the optimal number of employees that would further lead to the adoption of new regulations, as well as to the preparation of the plan of rationalization. Although the deadline expired for all three obligations, municipalities have responded to our request that they are not in possession of the aforementioned documents, or that they are currently working on their preparation. According to official data, there are currently at least 2300 supernumerary employees in the municipalities, although the number could be higher, since the projections are made without previous analysis which have not yet been conducted.
When asked about the total number of employees, local governments do not submit data for employees in state companies and institutions, but only for the central administration. Municipality of Žabljak has refused to answer to our request on this basis. According to information submitted by the municipalities to the Institute, on 31 December 2014, there were 3772 officers and employees in total working in local administrations (not including data for Bijelo Polje, Žabljak and Gusinje). Previously published data from the Ministry of Finance show that in September 2014 the total number of employees, including state institutions and companies founded by the municipality, was 11,778, which is 1,270 more than in 2012.
The municipalities that admitted the highest number of employees in the last year were Podgorica, Pljevlja, Herceg Novi and Nikšić. Municipality of Cetinje has not provided us with information on the number of officers who have been employed throughout the last year, with the explanation that we can access the data only in their premises. Municipality of Bijelo Polje has not responded to our request, continuing, thus, to violate the legal obligation to submit information on the basis of free access to information.
Jovana MAROVIĆ
Research coordinator