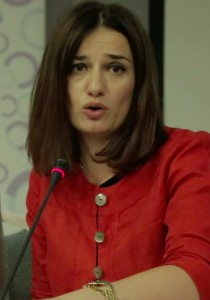 Jovana Marović, the research coordinator at the Institute alternative (IA) has participated today at the conference"The NGOs' experiences in the European integration process of Montenegro: Achievements and Challenges", organised by the Center for Development of NGOs.
Jovana was the speaker at the first panel "Experience of the NGOs in the working groups for the preparation of the negotiations". Stating that NGO representatives in working groups have selective access to information, she assessed that they have an unequal position because of a lack of transparency, and that they encounter a numerous obstacles when trying to inform themselves on the implementation of the Action Plans. Sessions of the Rule of Law Council are closed, while the sessions of the Working Groups discuss only technical details of the reporting process, and not the real issues. Another problem, she said, is that the comments from the European Commission (EC) on key draft laws and proposals, the reports of the expert missions of the EC and changes in the negotiating structure are not being published.
"The Government still has something to hide, i.e. channels of communication now enable the Government to hide some important information related to the integration process from the NGO members of the Working Group, as well as from other interested and expert public" said Jovana, alleging that some of the comments on legislation are not available, not only to NGOs, but also to MPs.
The part of Jovana's speech can be seen in the video below:
Besides Jovana, the panelist were Boris Marić from the NGO Center for Civic Education, Nataša Kovačević, NGO Green Home, Miodrag Radović, Secretary of the Negotiating structure and the panel was moderated by Ana Novaković, Executive Director of the Center for Development of NGOs.
The Center for Development of NGOs organised the conference in cooperation with the Association of human rights and media freedoms – Censorship Plus.