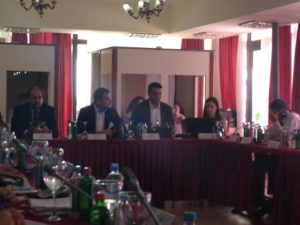 Our researcher, Dina Bajramspahić, was invited by the Geneva Centre for the Democratic Control of Armed Forces (DCAF) to be one of the panelists at the three-day round table held in Ohrid, Macedonia on June 24-26.
Theme of the roundtable was "Security and Intelligence Oversight – Overseeing Information Collection and Information Sharing" and was primarily created for Members and staff of selected committees of
the Assembly of Kosovo, with focus on the Committee on Internal Affairs, Security and Supervision of Kosovo Security Force and the Supervision Committee of the Kosovo Intelligence Agency, as well as representatives of the relevant ministries and international organizations in Kosovo.
Dina had a presentation on the fourth session of the roundtable whose subject was "Frameworks for interception of telecommunications – Insights from Slovenia, Croatia and Montenegro". This session meant to provide a platform for discussing with West Balkan and EU experts frameworks and approaches for interception of telecommunications with focus on aspects of particular relevance for the Kosovo context, in particular pointing to checks and balances and safeguards against potential abuse.
Her presentation was "Assessment of the legal framework for application of the measures for secret surveillance (MSS) and challenges for oversight in Montenegro". Focus of her presentation was on compliance of the legal framework for the implementation of MSS by the National Security Agency and Police Administration with the standards, the problems in the implementation of the measures, practical barriers to effective supervision over the implementation, etc.