Regional network of civil society organisations POINTPULSE is organising the conference "Promoting Police Integrity in Western Balkans". The conference will take place in Belgrade, "Zira" hotel, Ruzveltova Street, on Thursday, with the beginning at 9 a.m.
The conference aims at determining possibilities for strengthening internal control of the police and the police in community, through open dialog of main stakeholders for police reform in the region. Thus we want to support consensus building for implementation of the most important measures for the future development of the police in the region, with a final objective – a police officer with integrity and safer citizens.
The conference is a joint initiative of the regional network of civil society organisations POINTPULSE and OSCE Mission to Serbia, and represents a final event within first year of implementation of the project "Western Balkans Pulse for Police Integrity and Trust: POINTPULSE", supported by European Union through regional program "Civil Society Facility".
You can also follow the activities within the project on the website www.pointpulse.net, via Twitter account @POINTPULSEnet, or by using #BalkanCops and #POINTPULSE.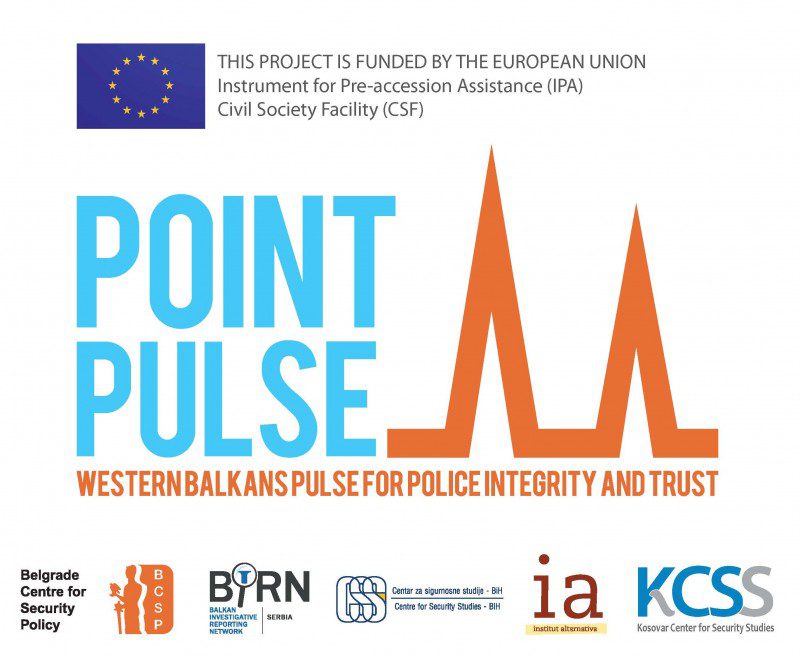 The POINTPULSE contains of five civil society organizations from the region – Belgrade Centre for Security Police (BCSP), Institute alternative, Centre for Security Studies (CSS), Kosovar Centre for Security Studies (KCSS) and BIRN Serbia, networked to monitor fight against corruption in the police forces of the Western Balkans.