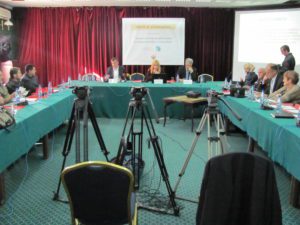 IA held the closing conference within the project entitled "The Challenges of the development of welfare mix in Montenegro". IA presented the results of the quantitative research conducted under this project. We are very pleased with the high number of relevant social actors who attended this meeting: nearly hundred representatives of NGOs, local government, Agency for employment of Montenegro, centers social work and other institutions of social and child protection.
All participants had an opportunity to influence on local and national decision makers by discussing about relevant issues in this area and to improve cooperation between different social actors. They also offered recommendations for the development of welfare mix in Montenegro, which will be the part of the research report. Research report will be published until the end of this month.
Media about the conference:
http://antenam.net/sajt/index.php/politika/15611-institut-alternativa-da-mris-vie-sarauje-sa-civilnim-sektorom
http://www.vijesti.me/vijesti/drzava-ne-posvecuje-dovoljno-paznje-socijalnoj-politici-clanak-101604.