Citizens trust the police, but consider it to be significantly corrupted. Their readiness to report police corruption cases is declining according to the research conducted for the third year in a row within the regional network POINTPULSE
The results of the public opinion research on police in Montenegro was presented today in Podgorica by Institute alternative.
Milena Milošević said that the trust in police is stable and that a growth was noted from 58% to 66%, since 2015 when the first research was conducted.
The number of citizens who believe that the police least serves their interest also declined from 62% in 2015 to 40% in 2017.
However, Milošević emphasized that the citizens simultaneously consider the corruption to be significantly present within the police, which contradicts the relatively high level of trust in this institution.
"More than half of citizens (57%) consider the corruption in police to be present to some or highest extent", she emphasized.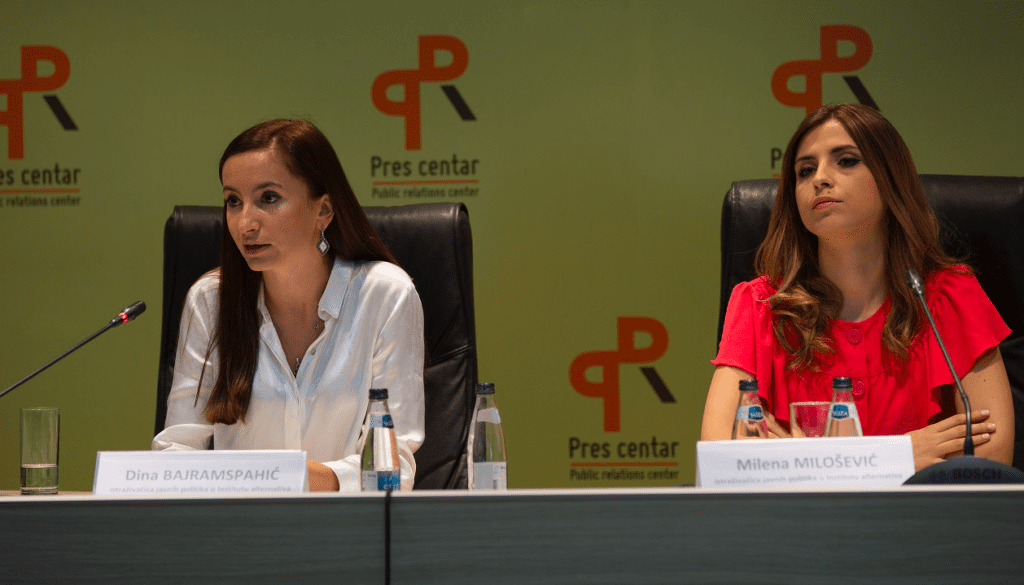 The citizens also note politicisation and nepotism when it comes to recruitment in the police: they think that recruitment rarely occurs via regular public vacancy announcements (43%) and more often via friend and family connections (51%) or via political connections (44%). "The citizens of Montenegro are still not ready to report police corruption cases", Milošević added, by which, according to her, Montenegro confirmed its spot among those countries where corruption reporting is least socially acceptable.
Within the three-years timespan a trend of decline is noted – from 48% of citizens who stated they would not report a police corruption case if they had to provide personal information, to 62% of citizens who declared the same in 2017.
Dina Bajramspahić emphasized that the citizens' perception, their subjective opinion of police, is affected by different factors. She stated that this is why IA will prepare a comprehensive study by the end of the year, which will deal with this issue using qualitative research in order to analyse to what extent the police resist the illegal and unethical conduct of police officers.
The conclusion of the event was that the Police Administration, the Ministry of Interior and the Agency for Prevention of Corruption should conduct a comprehensive campaign to promote reporting of police corruption cases.
Institute Alternative considers that the current recruitment reform in the police, conducted by the Ministry of interior, should deal with the issues of politicisation and nepotism and secure a more widespread discussion on organisation and promotion of public vacancy announcements as the main way to get recruited by the police.
The fieldwork in Montenegro was conducted by IPSOS Strategic Marketing using "face to face" interview technique in June 2017 on the representative sample of 1000 of adults.
POINTPULSE is a European Union Funded project, conducted by Belgrade Centre for Security Policy, Institute for Democracy and Mediation, Centre for Security Studies, Kosovo Centre for Security Studies, Analytica, Institute Alternative and Balkan Investigative Reporting Network.
The videos from the event are available here:
Institute Alternative Team